September Case: Hills of Jura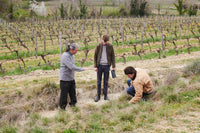 This month we've asked sommeliers Tom Beattie (P.Franco) + Francis Roberts (Bright), who co-run natural wine importation company Beattie & Roberts, to guest curate our September case.
Owing to their close working relationship with winemakers on the French side of the Jura mountains. They've dedicated this case to the winemakers on the French side of the Jura mountains who work hard to produce unbelievable, low intervention wines. This month's wines are premium, difficult to source and are only seasonally available, meaning we have a very limited number on offer: 90 Cases
This section doesn't currently include any content. Add content to this section using the sidebar.
Interview | Tom Beattie + Francis Roberts
'They credit Noble Fine liquor, their employers, and the East London hospitality community for creating a supportive space in which they could do this. Tom says: " It's so amazingly supportive and it's not about competition. It's about people who work together to use good produce and farmers". Through their expertise and their connections they have been able to graft a space in this emerging and competitive environment. During lockdown they have had an opportunity to reappraise their time, Francis has since decided to dedicate more time to Beattie & Roberts whilst continuing to work at Bright, but now...'
Read More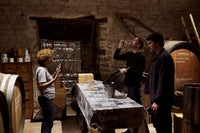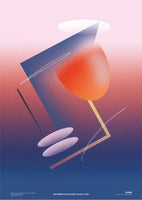 Artist | Rachel Bungey
We invited London based artist Rachel Bungey to interpret Tom and Francis's 'Hills of Jura' September case. Rachel is a multidisciplinary artist and designer, her art echoes her interest in music, nature and culture. Rachel worked full time as a creative at XL Recordings and Young Turks before moving to Tokyo to be freelance, now back in London Rachel is working on her own studio practice. Each case comes with 270gsm mohawk indigo print - 90 available.
See Artwork
Winemakers | Raphaël Monnier
Jura is known for its tranquility and beauty, but north of Arbois towards the neighbouring region of Doubs where the Ratapoil cellar is located is on another level. The drive from Arbois winds through forest and field before arriving at the Monnier family home. The cellar, built into the side of the house, is barely large enough to contain the handful of barrels and tanks needed for each year's harvest so frequent cellar-tetris and careful planning are essential.
Meet the Winemakers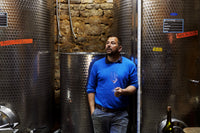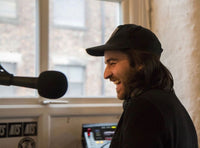 Selector | Yousif Al-K
Yousif, NTS resident, musician and record digger, has recorded a textured collage from his isolation bunker in Brockley for September's case. Expect eclectic meanderings through mountain streams that have no boundary. This mix should go down nice and smooth!
Listen to Mix