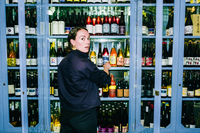 Wines curated by Honey Spencer
Honey Spencer is the wine director for a collection of restaurants including the recently Michelin starred Evelyn's Table, The Mulwray, The Barbary and The Palomar. 
Honey cut her teeth in natural wine way ahead of the curve, beginning that journey at everyone's favourite Hackney Road wine bar Sager and Wilde, almost over 10 years ago now. She has since travelled the world, working in some of the world's best restaurants, bars, wineries and vineyards in London, Sydney, Copenhagen and Mexico.
Buy Case
Honey now comes to the table with an inimitable level of knowledge, through both experience and a dedication to continued professional development of herself and peers.
Not only does she now oversee the wine decisions in her full time role for the Palomar group, whilst supporting her team up and coming drink aficionados internally, but also finds time to run BASTARDA, a creative natural wine event agency and Spencer & Smelskaya, a natural wine consultancy with sustainability expert Ania Smelskaya.
SEE WINES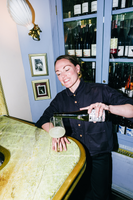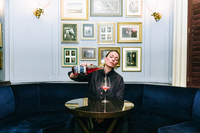 For this month's case Honey has bent the rules slightly, but for your benefit.

Not only will full case recipients receive 6 instead of 5 bottles, but you will also be getting a small master class in fermentation. Fired up after having just completed the only professional Sake course available in this country, Honey has snuck in a bottle. And because of the incoming British summer, a bottle of dry cider from Worcestershire also features made in the way we like our wine with just the fruit, no additions, fining or filtration. The other four are wines, and two happen to be bottles in generous 1 Litres vessels. It's going to be a bountiful June.
Artist: Electra Simon
Electra Simon is a Lebanese-English artist creating large-scale figurative paintings. She explores semi-autobiographical and social narratives through the emotional beings that emerge from her work. By integrating cinema, poetry and philosophy in her paintings, Electra's work demands active participation from the viewer.
'This painting re-articulates the miracle of turning water into wine to examine the space between the everyday and the spiritual. For me this miracle represents taking the simple things in life and using our own internal strength to transform them into something fuller. (Or full-bodied?- however you like!).'
Each wine case is accompanied with the pictured A3 270gsm poster.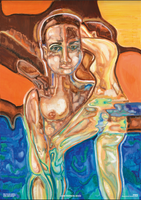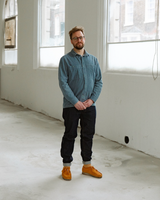 DJ: Sam Leedam
Sam is the Operations Manager of Gladwells (Camberwell) & Greensmiths (Waterloo). He has been working with food and natural wine as well as running events for the last 6 years. In a previous life he was a graphic designer (and occasional selector) working for a number of labels including Farout Recordings, WOOP, Church, Melting Pot Music and Tru Thoughts to name a few. He has since collaborated with a number of winemakers drawing on the symbiotic relationship between art and wine to design labels and posters for events over the years.
Sfera • Rosato, 2020 • Montelpulciano D'Abruzzo • Abruzzo, Italy • Light Crunchy Red
Description: A wine to drink with your eyes before anything else. The perfect juicebomb Summer red in 1L. Cuz we all know wine tastes better when there's more in the bottle- it's science.
Tasting Notes: Crunchy red fruit, fresh watermelon juice and freeze-dried raspberries.
Food Pairing: Any type of savoury snack. Tortilla crisps and salsa, green olives, salads, even light strawberry desserts, this wine will vibe with them all.
Wine Preparation: 20 mins out of the fridge.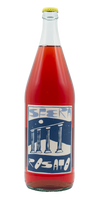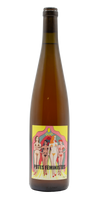 Vins et Vollailes • Putes Feministes, 2020 • Gewurztraminer, Muscat • Alsace, France • Orange
Description: Zero compromise vin nature by Parisian powerhouse Fleur Godart and friends.
Tasting Notes: Courageous and unapologetic skinsy from intoxicatingly-aromatic varieties. Lychee, passion fruit, summer pavement heat and a bunch of white lillies you just bought from the flower market.
Food Pairing: Layer that Umami UP. Charcuterie, mushrooms, miso, sun-dried tomatoes. Sit back and watch the show.
Wine Preparation: 10 mins out of the fridge.
Dinamo • Nucleo X Litro, 2021 • Trebbiano • Umbria, Italy • Orange
Description: Life-affirming orange from Umbrian duo Dinamo.
Tasting Notes: Orange peel and almond, thyme and hibiscus. Everything I want to drink hiding in long grass putting off all the adulting I have to do.
Food Pairing: Charcuterie, pasta, pizza.
Wine Preparation: 10 mins out of fridge.
Domain St Cyrgues • Salamandre Orange, 2020 • Grenache Blanc • Nîmes, France • Orange
Description: Feather-weight orange from Domain St Cyrgues and natural wine importer Les Caves de Pyrène in Nîmes. Tastes a bit like a Provence rosé if you squint your senses a bit. Perfect for your mate who "hates orange wine".
Tasting Notes: Prim and peachy, soft and easy.
Food Pairing: Treat it like you would treat a good rosé and pair it with anything that feels Provençale - black olives, mozarella, Summer salads, your dream life.
Wine Preparation: Fridge cold.
Kanpai • Kumo Cloudy 'Nigori' Junmai Sake, 2022 • London, England • Sake
Description: A sake to make you re-think your dislike of sake. Made from the infamous Peckham Springs by KANPAI.
Tasting Notes: Cloudy, silky, beguiling sake that screams of pearl drops, milk bun and pork floss (yes, pork floss is a BIG thing, see you in China Town)
Food Pairing: Spicy anything - thai or Indian curries or dishes, ice-cream, fried chicken.
Preparation: Gently shake before serving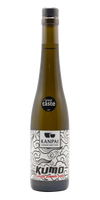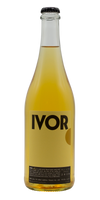 IVOR • Early, 2021 • Mix of pear and native English non-cider varieties • Worcester, England • Bone dry cider/perry mashup
Description: A still Cider/Perry mash up from the UK's most on point new cider house IVOR.
Tasting Notes: Bright, vivid and undeniably apple-driven with a small dose of tannin and sweetness from the inclusion of pear. Slight spritz in some bottles, others not. Either way, a bottle of this is like jumping into a cold river on a hangover: (almost) always the best of ideas.
Food Pairing: Perfect as an aperitif, or blend it up with bacon - animal or vegan- (Facon!?) based dishes, or dishes with hard cheese.
Preparation: As cold as you can get it.