December Case: Dominic Smith
D.S.
Michelin star Clove Club sommelier and virtuoso Dominic Smith, aka 'Dom the Som', aka Dynamite MC, has taken the reigns this December and is officially Santa Clause. He's curated a case with his five favourite 'Winter Warmer' bottles - perfect for December, Christmas and into New Years Eve. Each case comes with his tasting and food pairing notes, and an artist commissioned poster by none other than Faye Wei Wei. Christmas in a case, delivered to you, or someone you love!
[gift tag option after purchase]
BUY CASE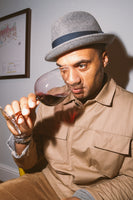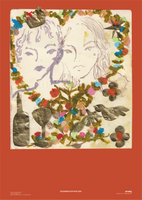 Artist: Faye Wei Wei
We invited London based artist Faye Wei Wei to hand paint us a piece for this month's poster. It's called 'PLONK'. The work is a love letter to holiday get-togethers, dinner parties, and reunions with friends and family alike. The work reminds us to take pleasure in tradition and ritual, even if this year those traditions are mostly memory. Each case comes with the pictured artwork printed on 270gsm mohawk paper.
FAYE WEI WEI
Music: Daniel John Willis ft. Dynamite MC
The Clove Club founder and all round 'music head' and selector, Daniel John Willis and Dom, (December sommelier) have kindly put the perfect mix of tunes together to be stuck on whilst sipping these 'Winter Warmers'. Sinatra meets Tribe meets The Staple Singers meets you name it... this is the soundtrack to your Christmas  Daniel created the backdrop to this mix using his set up of 1 Deck, Kaoss Pad, DJR 400 Mixer and a Dub Siren, a system born out of 2020's 1st lockdown. Just using one deck he samples and grabs snatches of the record playing so he can mix in the next song.Music is of equal importance to Dom, and he is a well known Drum & Bass MC - Dynamite MC. When not waxing lyrical about wine terroir, you'll find him touring the world performing to thousands of people rapping over electric beats with the likes of Roni Size, Krafty Kuts & Shy FX.You'll find Dom featuring as both Mc and Sommelier with Daniel on their new project 'Grande Kru Soundsystem', watch out for their debut mixtape dropping early next year!
Listen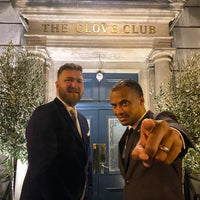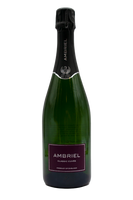 Ambriel • Classic Cuvée • Pinot Noir, Chardonnay, Pinot Meunier • West Sussex • Sparkling
Tasting Notes: Sensational English gem! A fine elegant mousse welcomes you, the largely pinot noir dominant blend displays hints of red apple, raspberry. Zesty citrus power oversees the 4 years spent on the lees which leaves mild 'briochie' delight. [D.S]
Food Pairing: It happily stands alone as the centre of attention or dances frollickingly with comte cheese, or, my quirky love - golden breaded scampi! [D.S]
Maturana Wines • Naranjo • Torontel • Maule Valley, Chile • 2019 • Orange
Tasting Notes: The power of the aromatics hits you first. Explosively, floral, rose petals are lovingly ascending towards your face. 9 months on the skins in concrete leaves a surprisingly gentle texture, tangerine and apricot fill your palate while gentle acidity carries through. [D.S]
Food Pairing: I love pairing this with smoked salmon. Try it! The smokiness of the salmon is extinguished by the floral fire brigade rushing in. [D.S]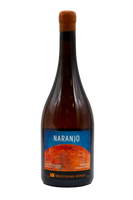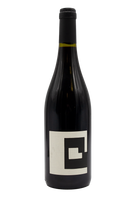 Project 108 • Les Clos Perdus • Carignon, Mouvedre • Rousillon, France • 2018 • Red
Tasting Notes: Sour brambles are electrified by fresh cranberry and blackcurrant, that leans into liquorice on the back palette. Biodynamic practices leave you tasting the earth and the sun that shone above the vineyard. [D.S]
Food Pairing: Amazing with white meats, think turkey and cranberry sauce, nut roasts and heavier fish dishes. [D.S]
Enira • Bessa Valley • Syrah, Merlot, C.Sav, C.Franc • Bulgaria • 2016 • Red
Tasting Notes: Here comes the big one! Bold black fruit, powerful structured tannins, herbaceous overtones mingle with vanilla and toasty oak integration. A long satisfying finish that has you dreaming you're in Bordeaux but happily surprised that you're in Bulgaria. [D.S]   
Food Pairing: Give this wine a worthy opponent: Game, Beef, Venison. I personally also really like it with curry! It's very comfortable in the company of blue cheese too. [D.S]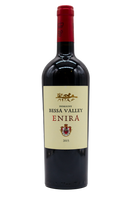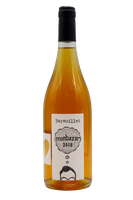 Barouillet • Monbazar • Chenin, Muscadelle, Semmilon, Ondenc • Bergerac • 2018 • Dessert
Tasting Notes: Take off your shoes for this one. Marmalade, Honey, Peach, Apricot all in this luxurious elixir that lets you know that you deserve every sweet sip. And for once… it's in a full sized bottle too! [D.S]   
Food Pairing: Mince pies, all day. But if it's time for cheese, you're in the right place. Slice of Christmas pudding I hear you ask, yes, this will have you in your happy place. [D.S]
49 AVAILABLE // PRE-ORDER // SHIPPING FROM 1ST DECEMBER
[...is this a gift? Don't worry, we'll confirm with you via email after purchase for gift tag names]