November Case: Oranj X Maxime Leroy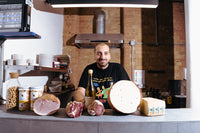 [M.L]
If you hang out in wine bars and restaurants in London, it will have been extremely difficult to not have come across the tall, charming, charismatic French man, that is Maxime Leroy. Quite possibly on the decks, but almost certainly putting back a glass of something really special. Originally hailing from near Marseille, after a uni stint in Manchester, he chose London as his home and brought his energy, passion and impeccable palette to London's low intervention wine world. This dedication to 'grape juice' has now spawned his own wine bar or 'Cave' as he might say in his native tongue, launched recently and named sensibly 'Slurp'. It's quickly become a key part of London's natural wine industry, a place where importers both drink and run tastings. We recommend visiting on a Thursday evening for a plate of cold cuts and a few glasses of the good stuff.
For this case Maxime takes us on a wine journey you might encounter in one of his infamous 'lock-ins' at his bar 'Slurp', one where he shares weird and wonderful treats from the top shelf only. It's getting cold, make sure you get this wine case now before you batten down the hatches!
Buy Case
Artist: Two Shoes
Emilie Inger Camilla Branford is a half-English, half-Swedish multidisciplinary artist from Kent. She is currently interested in exploring her identity, by creating playful and mischievous characters through referencing pop-culture iconography from both countries.

Emilie's art is heavily influenced by characters and themes from her childhood, for instance Donald Duck, otherwise known as "Kalle Anka". She also likes to incorporate her own outfits and personality into the characters she creates, making them a kind of abstract self portraiture.
Emilie's commissioned poster [pictured] is included with every case. They are printed on heavy weight 270gsm mohawk paper in A3.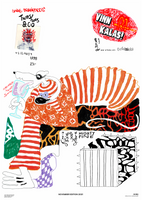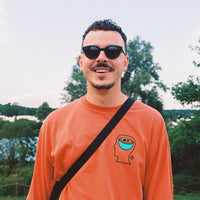 Music: Sean OD
Sean OD is a Brazilian-Irish DJ, now based in London. Alongside co-running the party and record label Scenic Route, Sean is also a longstanding resident at The Jazz Cafe, a monthly host on Rinse FM and a regular on the club circuit in London and beyond. For this mix, Sean selects an hour of vinyl from his ever-growing collection.
Pierre Weber • Les Lies Là • Pinot Gris, Sylvaner • Alsace, France • 2020 • Sparkling Orange
Description: From clay and limestone soil vineyards on the steep slopes leading down from Husseren-les-Chateaux. The elevation here is up to 400m which makes it one of the highest vineyard sites in Alsace, imparting a great sense of freshness on the wines.
A combination of Pinot Gris and Sylvaner that were harvested separately and both macerated on the skins for 5 days. The juices were combined during élevage and then bottled pet nat style.
Tasting Notes: A wonderful interplay of sugar, acid and tannin with a palate of autumnal berries and minerals.
Food Pairing: Works as well at the beginning of the meal as it does at the end.
Preparation: Serve straight out of the fridge and try not to drink it all in one go!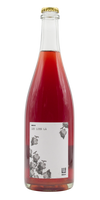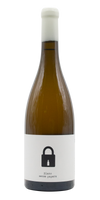 Bodega Clandestina • Blanc Sense Papers • Xarel-lo • Penedès, Spain • 2020 • White
Description: A blend of three different Xarello wines, each harvested at different times of ripeness. Some of the wine is given skin contact, some for a short period, and a bit for an extended length of 3 weeks. The whole is a wine that is fuller and more textured than a usual Xarello, with creamier notes from having undergone malolactic fermentation.
Tasting Notes: Some creamy richness plays with the typical Xarello minerals and acidity. Lots of texture, fuzzy peach, lemon and ocean spray.
Food Pairing: Grab some fresh crusty bread, some boquerones and some olives, or whip up some tasty paella and escape to the Spanish seaside.
Wine Preparation: Take out of the fridge and open 30 mins before drinking.
Maison des Ardoisières • Silice • Jacquère •Savoie, France • 2020 • White
Description: This négoce cuvée from Brice Omont comes from organically farmed 50-60yo vines on limestone scree and clay limestone soils in Apremont, fermented and aged in fibreglass vats for 9 months, and bottled with just 20mg/l of sulphur.
Tasting Notes: Fresh on the nose with a touch of white flowers and lemon, there's a bit of grass on the attack and a lively finish with hints of quinine and lime.

Food Pairing: This wine screams for melted cheese, especially a good Raclette with the best charcuterie and cornichons you can find.
Wine Preparation: This wine opens beautifully over a couple of days.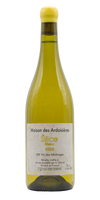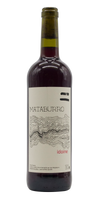 Mataburro • Idoine • Merlot • Pyrénées-Orientales, France • 2020 • Light Red
Description: What could go wrong with a wine translated to 'good stuff'. Not a lot. This one is a sought after prized possession from a tiny domaine in France. 100% Merlot from vines that are 30 – 40 years old, whole bunch 5 day maceration. 
Tasting Notes: Smokey apple pie, strawberries, cherries and subtle tannins.
Food Pairing: This is the perfect apéro wine. Have it on its own with the best pairing there is, good mates and good music.
Wine Preparation: Serve chilled and prepare for the jammy goodness that is Mataburro.
Malauva • Osarella • Sangiovese • Umbria, Italy • 2019 • Red
Description: This wine is just one of the components of the Malauva Casa Agricola, a 6 hectare plot located in the Municipality of Castel Giorgio in Umbria with vineyards, olive groves and vegetable gardens. The vineyard is planted on volcanic soils, the winemaking is hands-off. This is 100% carbonic maceration Sangiovese.
Tasting Notes: Light but fruit-forward and round. Wonderful texture and drinkability
Food Pairing: We drank this with a slow-cooked pork ragù and homemade pappardelle and can still remember the taste of the combo made in heaven. Make sure to add a splash of the wine into the sauce!
Wine Preparation: Best enjoyed lightly chilled.