Meet the Winemakers - September 2020 Edition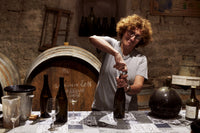 Catherine Hannoun | Domaine de la Loue
Catherine Hannoun is based in Port Lesney, a small commune about 15 minutes north of Arbois which exudes the tranquility many associate with the hills of Jura. Having worked for many years in film, including on Mondovino (a film bringing some of the shadier practises of the global wine economy to light), Catherine settled in Jura in 2008. It was clear after working with Emmanuel Houillon for a year that this was the area for her, and in 2009 bought a small parcel of vines and her current cellar. She now has 3.2ha of vineyards of Chardonnay, Savagnin, Trousseau and Pinot Noir around Marnoz and Arbois and whilst she aims to make refreshing wines that in some ways follow the traditions of the area, she is not bound to the rules and regulations of the AOC. We are particular fans of her oxidative Savagnin which comes in at a refreshing 12% alcohol.
Raphaël Monnier | Domaine Ratapoil
To many, Ratapoil will need no introduction; Raphaël Monnier's wines are some of the most iconic of the region. His interest in winemaking began some 20 years ago, first by working on a few small negociant projects with good friend Jean Baptiste Menigoz of Domaine Bottes Rouges. It was later in 2009 that he started Domaine Ratapoil while still a full-time history teacher, a career he has recently given up to put all his efforts into winemaking.
Jura is known for its tranquility and beauty, but north of Arbois towards the neighbouring region of Doubs where the Ratapoil cellar is located is on another level. The drive from Arbois winds through forest and field before arriving at the Monnier family home. The cellar, built into the side of the house, is barely large enough to contain the handful of barrels and tanks needed for each year's harvest so frequent cellar-tetris and careful planning is essential.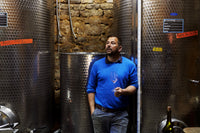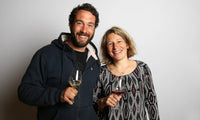 Pauline & Géraud Fromont | Les Marnes Blanches
Natives of the Jura, both Pauline and Géraud's families owned tiny plots (used to make wine for home consumption) and spending time in the vines in their childhood was enough to give them the wine bug. They met while studying winemaking in Dijon and created Domaine des Marnes Blanches when they returned to the Jura in 2006.
They farmed organically from the word go and have added (some planted) parcels along the way to reach a total of 12ha today, spread across three towns in the Sud-Revermont (south of the Côtes-du-Jura AC). Cesancey, their first acquisition, is home to the white marl after which the domaine is named, while Gevingey, Vincelles and Ste-Agnès have more varied soil types, the majority being red marl and gryphées (limestone rich in fossils).
Alexis + Emilie Porteret | Domaine des Bodines
Alexis and Emile were both born and brought up in the Jura region, Alexis had studied petro- chemistry, but in he realised that he did not enjoy this subject, so he went to work at a wine estate in the Jura region- at the natural wine-making estate, Domaine de la Tournelle. He then studied for a wine-making and viticulture diploma in Beaune, he worked in several other wine estates and then they both then created their own wine estate 'Domaine des Bodines' in 2010 by buying a house in the very centre of the town of Arbois with three hectares of vines attached to it.
BUY: CASE + ARTWORK
November Mix: Dar Disku
Vish and Mazen grew up less than a mile apart in Bahrain with a shared fascination with discover...