October Case: 'Making Dinner at Home'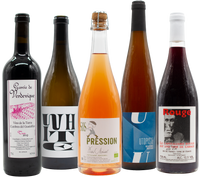 At Oranj we love blurring the lines between art, music and wine, which is why it made so much sense to invite artist Michael McGregor to collaborate with us on this month's wine case.
Not only a painter, Michael (b.1983) is a writer, DJ and all round creative virtuoso. When he's not writing features for Interview Mag, Document Journal, and The Fader, or publishing poems, you might find him performing in the Sculpture Garden at MOMA. Or painting one of his iconic still lives, such as the one we are extremely lucky to have for our October 2021 wine case. 
Buy Case
Artist: McGregor
McGregor lives and works in Los Angeles. With a cavalier approach to colour and mark making, he creates unconventional, wide-eyed renderings of traditional subject matter, with a focus on still life and landscape. McGregor's work highlights the beauty within mundane objects, spaces and moments that usually pass us by. He injects life into the everyday.
This month's piece celebrates the ritual of making dinner at home whilst working your way through an assortment of wine bottles.
His commissioned poster [pictured] is included with every case. They are printed on heavy weight 270gsm mohawk paper in A3.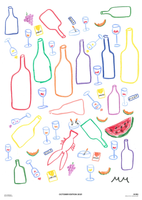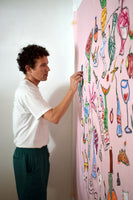 Music: McGregor
Because of McGregor's love for music, and having done the odd set on NTS, it made complete sense for him to jump on the 'decks'. His recording is aptly named "Music for Drinking Wine and Making Dinner at Home," which we can totally see illustrated in his art piece. 
His mix was made during an art residency run by Blue Shop Cottage in a chateau in France Midi-Pyrenees. The mix is curated using his favourite 5 star tunes from his Apple music collection and recorded using nostalgic programme Audacity, in front of a still life that he lived with for 5 days, and painted whilst it slowly decomposed.
[Photo by Ocki Magill, Blue Shop Cottage]
Bois Moisset • Sans Pression Rosé • Cabernet Sauvignon • Gaillac, France • 2020 • Sparkling Rosé
Background: Gaillac is an unsung winemaking region, overshadowed by its better known neighbour, Bordeaux. However, its winemaking history dates back to Roman times. This wine is blessed with winds bringing moisture from the Atlantic in the west, and from the Mediterranean in the east. Sylvie, Phillipe and sons run a closed loop vineyard where organic beef cattle are reared, and lentils and ancient grains are grown. Cow manure is used as a natural fertiliser for their incredibly strong vines. 
Wine: The Cabernet Sauvignon is grown in sandy gravel soils. Whole bunches are pressed directly with a pneumatic press and the juice is blended together in fibreglass tanks before bottling with a sugar density at 1005. After 4 months in bottle on the lees wine is disgorged.
Tasting Notes: Crunchy, Fruity, Sweet Wild Strawberry, Bitter Redcurrant.
Food Pairing: This is an unbelievable aperitif wine so not 100% necessary to have with food. But if we were to pick something it would have to be oysters or some pan fried scallops.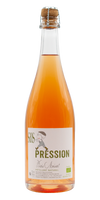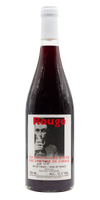 Domaine Le Clocher • Capitalisme Rouge • Pinot Noir, Cabernet Franc • Loire, France • 2020 • Red
Background: Punk-rock winemaker Brendan was born in the U.S in 1954 to an American father and French mother. At 16 he was sent away to the Loire to study philosophy, French literature  and fine art. He then co-founded a punk rock band in the States before becoming a radio presenter, and finally deciding to go back to school to study winemaking. Here he met natural wine legends, Thierry Puselat and Pascal Simonuttie. In 2010 he launched his vineyard, symbolically in the Loire.
Wine: 50/50 Pinot Noir and Cabernet Franc manually harvested from clay and limestone soils, silex on the surface. Blended after one month in vats and aged in bottles. No filtration, no fining.
Tasting Notes: New Tennis Ball, Tangy, Tea Leaves, Cherry, Pomegranate. 
Food Pairing: Drink with a nice peppery saucisson on a chopping board; watch how quickly both disappear. If this is going to be a main event wine, it being a lighter red, pair with salmon or poultry dishes. Option is there to lightly chill before opening.
Andi Weigand • White • Bacchus, Silvaner, Müller-Thurgau, Scheurebe • Bavaria, Germany • 2020 • White
Background: Notorious as a "college-escapee,"  Andi Weigard flips tired winemaking traditions on their head in his region of Franconia, Germany. Very special Keuper soils allow his wines great weight and complexity without high alcohol. His plots are on the sides and low down the hills. Andi likes to blend old and new tools by utilising an 80 year old basket press, vinifying in German oak. Sometimes he macerates in qvevri, a large egg shaped terracotta vessel historically used in Georgian winemaking.
Wine: Field blend of grapes grown on Keuper soils. Harvested by hand they go through his very old direct press. Juice then sits in German oak barrels for nine months before bottling. No sulphur added.
Tasting Notes: Guava, Pear, Vibrant, Bright, Fresh and Clean.
Food Pairing: Perfect with ceviche or tacos.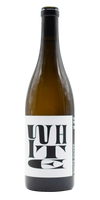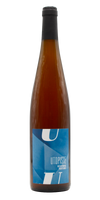 Domaine Kumpf et Meyer • Utopiste • Gewurztraminer • Alsace, France • 2019 • White
Background: Both hailing from winemaking families, Phillipe Meyer and Sophie Kumpf, married and started a new winemaking estate in the 90s. Their relationship didn't last, but Sophie has kept the domaine running with long term collaborator, Julien Albertus. The vineyard in placed between two mountains: Le Mont Champ du Feu and Le Mont Sainte Odile, so their limestone and clay soils are protected from heavy rainfall.
Wine: Organically grown Gewurztraminer, cut using the Guyot Double Poussard technique, macerated for 3 weeks before moving into stainless steel for 11 months. Naturally triggered full malolactic fermentation. No filtration, no fining.
Tasting Notes: Melon, Papaya, Honey, White Pepper, Grip and Zip.
Food Pairing: A Thai-inspired prawn, langoustine and lobster curry. The wine's marriage between savoury and acid means it also cuts very well though fatty cheeses. 
Verdevique • Tinto Cosecha • Tempranillo, Garnacha • Grenada, Spain • 2019 • Red
Background: The Garcias have 33 hectares of land in the Contraviesa mountain range on the southern face of the Sierra Nevada. Due to their vines being so high up, between 1150-1400 metres above sea level, and positioned on dangerously steep slopes it means no 'modern' machinery can be used at all. Instead the family run the soil with mules. Although the climate is very hot, their altitude combined with the Mediterranean sea breeze means these vines never bake, but are able to ripen well before harvesting. Half of their property is also devoted to growing organic almonds and figs.
Wine: Grapes are taken from 4 plots. Bunches are destemmed and pressed, the juice is macerated in steel vats for 25 days, then 9 months in vat before bottling.
Tasting Notes: Wild herbs, Blackberry, Sea Salt, Mineral, Tannins.
Food pairing: Lends itself incredibly well to a stew you might find cooking on a stove in Alpujarras, say something with blood sausages, chorizo and cured pork. Or why not try a vege classic 'Cocido de hinojos' a fennel and white bean stew. Is there anything more heartwarming than a stew laboured over by someone with a glass of red in hand?