January Case: Martina Larnach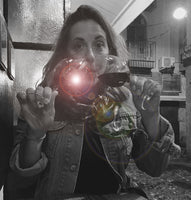 M.S.
Michelin star BRAT sommelier Martina Larnach kindly comes to save us from "dry-Jan" with her self-described 'Wet January' wine case. This means, bright, delicious, winter ready natural wines. She's chosen fives wines from specialist suppliers that help stock the restaurant cellar, whilst also drawing influence from her Czech heritage for her case.
BUY CASE
Artist: Coco Bayley
London based artist Coco Bayley  makes us a poster for 'WET JANUARY'. Each case comes with the pictured artwork printed on 270gsm mohawk paper.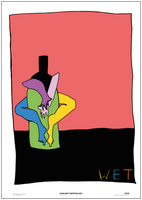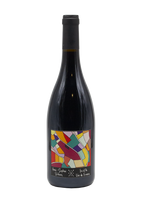 Anne-Sophie Dubois • Ici et La • 80% Gamaret 20% Gamay | Fleurie, Beaujolais • 2016 • Red
Tasting Notes: This is Bojo (Beaujolais) but not as you know it - this is wine of two faces but they are in perfect harmony. It's dark and ripe with the good structure from the Gamaret, and then there is the juiciness and softness from the Gamay. This is an interesting wine worth decanting, enjoy it over evening and watch it unfold in the glass. [M.L]
Food Pairing: This would be lovely with beef bourguignon but equally delicious just sipping with friends eating crisps. I've enjoyed it with some chinese food in the past and wow - that was really really good. [M.L]
Domaine Guion • Bourgueil Rosé • Cabernet Franc • Benais, Loire • 2018 • Rosé
Tasting Notes: This is fiery, tartly, refreshing rose. Raspberry, cranberry, blood orange and some earthy notes on the ripe but dry palate. This wine will leave you wanting for more! 50years of organic farming gives this wine perfect balance and true expression of the terroir. [M.L]  
Food Pairing: Burgers, ribs or vegetables cooked over charcoal - red peppers, aubergines, grilled onions. Soft goats cheese would work a miracle as well. Delish. [M.L]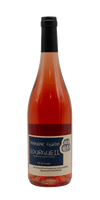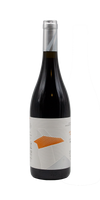 Lyrarakis • Aggelis • Liatiko • Herakleion, Crete • 2019 • Red
Tasting Notes: Smells like Greek sunshine: dry thyme, oregano, touch of bayleaf and the juiciest cherries. Light but powerful red with fantastic structure, firm yet soft tannins, and some fruit to balance it out. Very elegant, classy and pretty. [M.L]
Food Pairing: As it is Greek wine the pairing with lamb is pretty obvious. Enjoy it over big kebab take-away, slightly chilled. Or while snacking on some anchovies and focaccia. [M.L]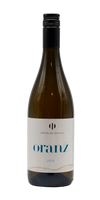 Jaroslav Osička • Oranž • Roter Traminer • Velké Bílovice, Czech Republic • 2019 • Orange
Tasting Notes: Beautiful nose of peach ice tea, jasmine, with a tiny bit of caraway. Lovely light orange hue colour - only 12 days on the skins. Super mineral and saline with a touch of savourines on the palate. Fresh, bright, gentle tannins and just perfect acidity are carrying this wine beautifully. [M.L]
Food Pairing: I'm thinking gnocchi with cheese sauce or just a big slab of gorgonzola. Or roasted chicken. [M.L]
Krásná Hora Winery • Riesling • Riesling • Starý Poddvorov, Czech Republic • 2018 • White
Tasting Notes: Classic riesling nose, like a freshly opened tube of tennis balls with a touch of petroleum, and gentle floral notes. Crisp, bone dry, fresh, clean, laser like acidity. Mineral, tiny bit salty and lovely peachy and herbaceous aftertaste. This is truly outstanding riesling. [M.L]
Food Pairing: At only 11% alcohol this is perfect as aperitif, drink it on its own or have it with roast chicken, it will work magic with spicy and hot dishes. Or have it the Czech way with schnitzel and mashed potatoes. [M.L]