August Case: Wines Grown by Freshwater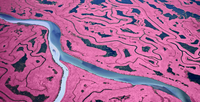 For this month we deep dive into wines that are made from vines that are grown in close proximity to freshwater rivers and lakes.
Artist: Eliza Hopewell
Eliza has created our artwork for August. 'I'm currently on the Villa Lena artist residency in Tuscany where I've been swimming a lot in the pool, the reflection of light on the water and the shape of bodies distorted by the different angles when under water have become very fascinating to me. I made the painting with some blue pigment I found in the art store here which is incredibly vibrant, the colour instantly made me think of swimming and being submerged.'
[Each wine case recipient recieves 270gsm print poster]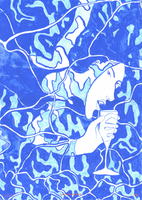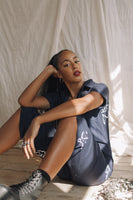 Music: Heléna Star
Heléna Star provides this months soundtrack. Heléna is one of the most exciting new DJ's in the UK. A rising 'Star' in House and Techno, taking influences from the raw energy of the genres' roots; as well as soulful, bubbling baselines from across the globe. Star's larger than life attitude can be felt within everything she does and you can catch her sharing her love of dance music across London, international venues, festivals or on her weekly residency on Foundation FM. 
Mix: All tunes selected had this months box in mind.. smooth sultry grooves with bursts of energy. I'd recommend listening to this with a glass of Oranj Wine in hand, BBQ on in the garden and with your nearest and dearest coming over for a boogie at Dusk. 
Ombretta Agricola • Bianco Mosso • Verduzzo Tevigiano • Veneto, Italy • 2019 • Sparkling
Background: Irrigated from the River Piave, in the shadow of the Dolomites, where it meets the Adriatic.
Alex della Vecchia learnt his skills from the late Ernesto Cattel of Costadliá, who was famous for rejecting the chemically reliant prosecco winemaking prevalent in the area. Instead, he pioneered natural sustainable processes in the mountains of Veneto. Wine is made from 10 days skin contact of Veduzzo Trevigiano, aged in old barrels for 6 months before second fermentation is kickstarted in the bottle using passito grapes and fresh juice. This wine is chosen because it's an example of a briny fresh water wine, where the river and sea inevitably meet.
Tasting Notes: Saline, zippy, citric, yeasty, clean and fresh.
Food Pairing: Start the evening with this bottle. Perfect as an aperitif on its own, or with juicy green olives and some good tinned sardines.
Preparation: Give it a bit of a shake just before refrigerating to stir sediment off base. Drink it cold. Have an ice bucket to hand if you want to take your time.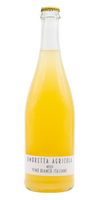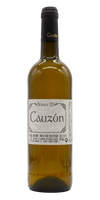 Bodega Cauzón • Cauzón Blanco • Macabeo, Viogner, Chardonnay, Sauvignon Blanc • Andalusia, Spain • 2020 • White
Background: This wine is not grown by a river or freshwater lake but on the north face of the Sierra Nevada desert. Rainfall is very rare; the region couldn't be drier. So why the inclusion? Former Michelin star chef turned winemaker, Ramón Saavedra, has found a way to work with the limited irrigational resources available in this remote and barren part of the world. He's located a fresh water well that fills up once a year with thawed snow from the tall mountain that looms over his vines. From this he waters his grapes.
Tasting Notes: Subtle nuttiness, delicate kumquat, yellow flowers, stone fruit.
Food Pairing: If drunk as an aperitif, pair with some good Jamón. If you can find one from Granada, specifically Trevélez, you'll be in extremely good company. The wine's clean subtle finish cuts through the salty, woody, flavours of the ham. 
And if you'd prefer to pair with something a bit more substantial, try and source a Pata Negra presa, and fry up with some patatas bravas, and padron peppers (obviously topped with lots of salt).
Preparation: Refrigerate before opening. Most expressive 30mins after opening, but must be drunk in one sitting as no sulfites added. 
Le Coste • Rosso di Gaetano • Sangiovese, Syrah, Merlot • Lazio, Italy • 2020 • Red
Background: Gianmarco Antonuzzi and Clémentine Bouveron work 14 hectares of land that sits next to one of Italy's biggest and most beautiful volcanic lakes, Lago di Bolsena. Their vineyard is peppered with olive groves, chestnut trees, shrubs and oaks. They use biodynamic principles, meaning the vines thrive off healthy nutrient heavy soils. 3 week skin contact of half Sangiovese, and the other half a mix of Merlot and Syrah.
Tasting Notes: Spice, pepper, blackberry, bitter and herbaceous.
Food Pairing: If eating meat try grilling some Salsicciamo sausages, or take it down a Middle Eastern route with some BBQ kofte skewers. If keeping it vegetarian, try stuffed peppers or an aubergine parmigiana.
Preparation: Open at room temperature.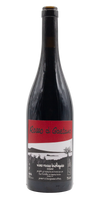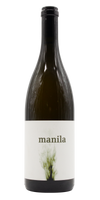 Martin Nittnaus • Grüner Veltliner Manila • Grüner Veltliner • Burgenland, Austria • 2019 • Orange
Background: Grüner Veltliner grown on the shores of Lake Neusidlersee, in the Austrian village of Jois. Soil is a mix of loam, clay and lots of pebbles, perfect for the vines to irrigate from the waters edge.
Grapes see 7 days of skin contact (maceration) in 1000L clay amphoras, before the juice is pressed and aged for 7 further months in the same vessel. The Nittnaus Brothers describe their wine as "Adventure. And the Beauty of Adventure. Grüner Veltliner MANILA. Charging the Fortress of Grüner Veltliner. Freeing this grape and sending it on an adventure, just like going to Manila. When she returns, she has changed, almost not recognizable. But with new character and something to tell. You listen."
Tasting Notes: Grapefruit, zippy, yeasty, earthy, energetic.

Food Pairing: Great with South East Asian influenced dishes. Try with soy aubergine and Thai basil or a prawn pad thai. 
Preparation: Refrigerate before opening. 
Disznókó • Tokaji Dry Furmint • Furmint • Tokaj, Hungary • 2018 • White
Background: Made by an estate dating back to 1502, vines grown right by the confluence of two mountain rivers, the Bodrog and the Tisa. Winters are extremely cold, spring is cool and dry, and summers are very hot. 20 to 25-year-old vines are situated on thick loess soil, with complex volcanic soil on the south facing vineyards.
Tasting Notes: Fresh, lime, pear, green apple, very light acid.

Food Pairing: Perfect with light summer meals, lunch in the garden or park. Think pasta dishes such as alio olio peperoncino, grilled white fish, or a lovely big green salad.
Preparation: Refrigerate before opening.