February 2023 Editon: Native
Imogen Davis of Native
For this month's curated wine case we are joined by Imogen Davis the co-founder of Native, a contemporary fine dining restaurant in Mayfair that's big on foraging and has a zero-waste ethos. Imogen is the general manager and in charge of all things front of house. In line with their sustainable and environmentally conscious food offering she places a huge focus on natural, organic and biodynamic wine.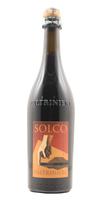 Paltrinieri • Solco • Lambrusco Salomino • Italy, Emilia-Romagna • NV • Sparkling
A traditional Lambrusco with minimal intervention. This slightly off-dry salamino is a firm favourite for any party, the gentle bubbles bring the much missed al fresco vibe to the darkest winter nights - there's disappointment all round if I don't turn up with this in tow! 
Rich, dark fruits, concentrated blackcurrants and cherries with delicate bubbles - 15mg residual sugar with an extra crisp, earthy, savoury dryness on the finish. 11% vol alcohol.
The perfect aperitif with some snacks.
Best served chilled.
Azul y Garanza • Naturaleza Tinto • Garnacha, Garnacha Blanca • Navarra Desert, Spain• 2020 • Red
In 1999, Maria, Dani & Fernando took over an abandoned winery on the edge of the Navarra desert- the largest in Europe. They discovered wild vines that were over 100 years old, growing in harsh conditions, amid forests, bearing exceptional quality grapes. 
The dynamic trio have planted fruit trees and indigenous shrubs around these low-production vineyards to support the local biodiversity, all whilst making some exceptional wines that really are to be treasured. 
50% garnacha blanca, 50% garnacha are co-fermented with a brief maceration on skins and aged in amphora before bottling, and whenever I think of this wine I just think of those happy little bouncing ribena berries hopping across meadows in spring. It's a dark rosé / very light red that is full of flavour and fragrance. 
Expressively versatile, we have paired it on our menu with anything from venison tartare to spicy smoked carrot.
Drinks beautifully lightly chilled.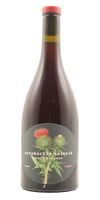 Judith Beck • Blaufränkisch • Blaufränkisch • Burgenland, Austria • 2021 • Red
From one of the leading natural winemakers in Austria, this chewy blaufrankisch has a perfect balance of soft, velvety tannins with acidity and spice, with a true sense of place - Judith transports us to living between the vines. 
Think cheese fondue!
Podere Pradarolo • Vej Bianco Antico • Malvasia • Emilia Romagna, Italy • 2021 • Orange
Almost copper in colour, this is a serious orange wine. 100% Malvasia grapes that are macerated on skins for 100 days, the Carretti's (the winemakers') goal of championing indigenous varieties really captures the truest expression of the grape - a masterclass in letting the grape dictate its journey to bottle.   
A complex, perfumed, intriguing wine that will keep you going back for more of this very food-friendly wine.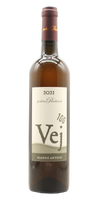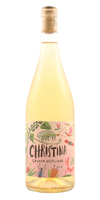 Christina • Grüner Veltliner • Grüner Veltliner • Niederosterreich, Austria • 2021 • White
The grapes are hand harvested and pressed as whole bunches. The vineyard is situated near to the River Danube, with the cool breeze aiding theand as spring is approaching, we are looking forward to reopening our "secret" garden at the restaurant and sipping away the hours as we enjoy those long awaited lighter evenings. The labels will make you want to get creative and repurpose the bottle - illustrations celebrating the beneficiary insects that contribute to a healthy vineyard and local biodiversity!
Named after its vivacious vintner, 'Christina' springs intensive aromatics with bright acidity and peppery undertones to give this glorious wine its colourful personality.
Artist: Himbad
As HIMBAD's exhibition at the Tang gallery comes to end in Bangkok he has taken to the streets to paint his mutants throughout the city. For Oranj and this month's poster he's painted a mutant entity over a flyover in the west of the city clutching a glass of wine. To date HIMBAD has shown in the Victoria and Albert Museum, the Tate Modern in London or MoMA New York, as well, in the form of murals, on walls all over the world.
Each wine case is accompanied with an A3 print.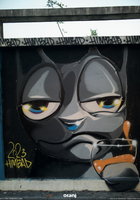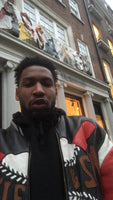 Music: Ulysse
Originated from Haïti, raised in France and grew up in America. Just like his music, Ulysse's sound is internationally harmonised. Settled in London for the past few years, his goal is to give back to the music scene all the blessings he has received. Ulysse says 'this mix is to be sipped delicately with care and love just as it was prepared'. Enjoy!