January Case: Naughty Piglets
Sommelier: Margaux Aubry
Margaux Aubry, hailing originally from Lyon, heads up the beautiful little neighbourhood restaurant 'Naughty Piglets'. A neighbourhood operation that serves delicious modern European plates with a light Asian twist (cooked up by chef and co-owner Joe Sharratt), paired with one of the best natural wine lists in London, curated by Margaux's impeccable taste. Have a glass downstairs and you'll find yourself being instantly transported to what feels like the most authentic 'Cave de Vin' this side of the channel. It's tucked away in the back lands of Brixton, an 'if you know, you know' kind of joint. A place where people who enjoy the ritual of seeking out the best bar and restaurant experiences do not think twice about making a pilgrimage to. On top of this, Margaux is also somehow able to run an incredible boutique import company called 'Unfiltered Wines', specialising in the type of wine we love, natural. Luckily for us this month, we'll have the opportunity to be drinking one of her more recent imports 'Soulographie, 2020' Son's of Wines, alongside four other incredible bottles.
Buy Case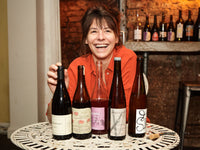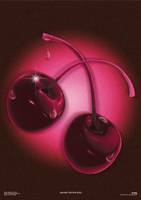 Artist: Rhianna Ellington
Rhianna Ellington is an English textiles designer and artist who specialises in fabric development, printed textiles, knitwear and digital design. In 2018 she graduated with a Masters from the Royal College of Art where she studied Printed Textiles Design. She is currently based in London, UK. Rhianna has worked with brands including Acne Studios, Erdem, JORDANLUCA, Lane Crawford, as well as being featured in the Guardian and WGSN. You can view Rhianna's portfolio here.
Rhianna's poster [pictured] is included with every case and is printed on heavy weight 270gsm mohawk paper in A3.
DJ: Noah Tucker
Noah is a DJ and producer from Hackney, London. Noah has been a part of the Kindred crew since its inception in late 2018 and is part of the Kindred Radio team, broadcasting out of the Kindred shop in Farringdon.

He is also the head of his own label, Ulterior Motives, specialising in all things juke, footwork, jit and ghettotech. Hailing from North London, Noah's production and DJ styles are heavily rooted in the UK sound but don't be surprised to hear influences from all over. Noah's record bag is always as varied as the lineups he appears on – expect anything from UK garage to dubstep to footwork.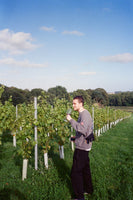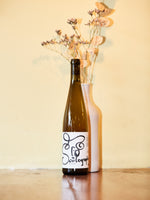 Son's of Wines • Soulographie • Pinot Blanc, Pinot Gris, Auxerrois, Chardonnay, Riesling • Alsace, France • 2020 • White
Description: Direct press. Aged in Steel. A bit of funk on the nose, which is quickly washed away by a complex incredible slap in the face. I love Farid's wines, they are very pure with nothing ever added.
Tasting Notes: Notes of almonds, round and nutty, with a great acidity.
Food Pairing: You'll crave a bowl of chicken stock with comté and orzo.
Valdibella • Dhyana • Perricone • Sicily, Italy • 2020 • Rosé
Description: Not your usual rosé, a rosato perhaps. Vibrant. Slow direct press. Malolactic fermentation. Aged in steel. Honestly forget about pale for a while. This is dark and fucking astonishing.
Tasting Notes: Mineral, with an insane savoury finish. Texture and fruits.
Food Pairing: Take a sip and imagine a hand chopped beef tartare, with nori salt and kombu flakes.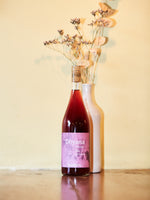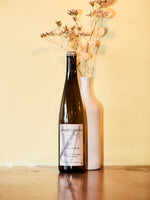 Roucas Toumba • L'Armes Blanches • Chenin Blanc, Vermentino, Chardonnay • Vacqueyras, France • 2020 • White
Description: Direct press. Aged in 225L barrique. Texture & a sense of cloudiness. Incredibly mouthwatering. You essentially want to find a straw and drink it in one go. I have been drinking Eric's wines for a while now and the balance and consistency of his work is a pure joy. 
Tasting Notes: Round dry, clean and 'digeste', you can easily drink the whole case in one night.
Food Pairing: Would absolutely pair with a piece of pan fried turbot drowned in butter. Or simply with a friend and a few cigs.
Vino di Giovanni • Chiaretto • Vernaccia Rosa • Umbria, Italy • 2020 • Red
Description: Aged in demijohn for 6 months. Light to medium. Elegance. I refer to this wine as a delicate kiss. One of my ultimate favourites. His wines are very special to me, they make me daydream. His Labels feel somehow homely (and are made of grass), just look at it for a while please and let your mind wander before you taste the wine. Giovanni wants to 'capture the magical expression of the fruit of the earth', which I think he  does gracefully.
Tasting Notes: Subtle, juicy and dry.
Food Pairing: I would drink this bomb by itself or with a plate of Italian charcuterie.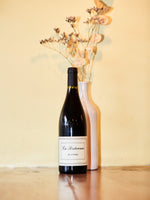 Herve Souhaut • La Souteronne • Gamay • Ardèche, France • 2020 • Red
Description: A Punky Gamay. Long macération at low temperature. Aged on fine lees. Not your usual light carbo red. Imagine waking up at the crack of dawn for a walk in the forest to pick and crush red berries. Add  some concentration and a pinch of earthy salt. I drank this a lot in December, this wine makes you feel quite wriggly and a bit high.
Tasting Notes: Intense and meaty, croquant and addictive.

Food Pairing: Would pair it with a fricassé of wild mushrooms on toast, with tons of black pepper and parsley.