Sarap's Budgie Montoya
Sarap's Budgie Montoya joins us to curate our January wine case. Born in Mindanao in the Southern Philippines and raised in Sydney, Ferdinand "Budgie" Montoya first began to working food and drink in his late-20s before moving to London, where he began to pursue his career professionally. Budgie developed his experience within some of London's finest restaurants including the Michelin-starred Restaurant Story, Dean Street Townhouse, Flat Three, Foley's and Soho House & Co, before founding his own supper club in 2017 as a way to reconnect with his Filipino roots. Sarap (meaning delicious) aims to champion Filipino cuisine by marrying traditional recipes and reinterpreting them with a modern and local narrative. After several supper clubs, pop ups and residencies (including at Soho's restaurant concept incubator, The Sun 13 & Cantons), he opened his first standalone site, Sarap Filipino BBQ & Lechon in Brixton at the end of January 2020, which was soon converted to a pared down quick service interpretation renamed Sarap BAon as a result of the COVID-19 pandemic.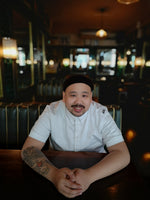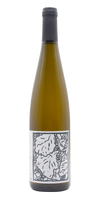 Goepp • Riesling • Riesling • Alsace, France • 2021 • White
Tasting Notes: Riesling cuts through my cooking, which is full of spice, seasoning and heat, like a hot knife through butter. It doesn't try and compete, it joins the conversation like no other. Grapes were grown on limestone so it's got a really nice mineral, stone fruit finish.
Food Pairing: Celeriac with peanut kare kare. Aromatic/spiced seafoods and salads.
Wine Preparation: Nice and cold.
Vignereuse • La Gamelle du Lench • Duras • Gaillac, France • 2020 • Red
Tasting Notes: A wine like this pairs well with my skewers and anything cooked over fire. The rich umami meat is complemented by the gentle acidity, but also it's deep complex character that could only be born out of 50 year old vines.
Food Pairing: BBQ pork skewers, Pork head croquetes, chicken wings… meat or slow cooked veg.
Wine Preparation: Room temperature.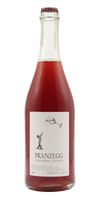 Pranzegg • Rosso Leggero • Vernatsch • Trentino, Italy • 2020 • Sparkling
Tasting Notes: Beautiful rosato (rosé) made from Vernatsch grapes that are grown 350m above sea level, this lovely alpine air which translates into a fresh wine that really complements the Filipino and South East Asian flavours. It's not heavy, but it's still got some weight to it.
Food Pairing: Trout kinilaw, celeriac, poussin… fish and white meats…
Wine Preparation: Cold.
Valdisole • Gaia • Malvasia di Candia • Piedmont, Italy • 2021 • Orange
Tasting Notes: Orange wine is always one of my go to's when it comes to pairing wine with my cooking. You almost get some of that weight like you would from a red wine, tannins, savouriness, but alongside a freshness that you can only achieve from white grapes. This wine has big tropical energy, think lychee, mango and pineapple.
Food Pairing: Pickles, tempura oysters, poussin inasal… seafood, shellfish and white meats.
Wine Preparation: Cold.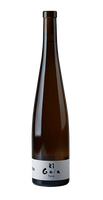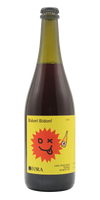 Fora in Vigna • Bidon Bidon • Tai Rosso • Sicily, Italy • 2021 • Sparkling
Tasting Notes: It's winter which means bubbles made with red grapes are not only in season and work well with the temperature, but it also makes for a lot more of a gastronomic sparkling wine. This has nice grippy dark cherry tannins, is herbaceous and savoury, perfect for meat and fried foods.
Food Pairing: Pork BBQ skewers, pork head croquetes, bistek tartare.
Wine Preparation: Cold.
Artist: Wei Prior
Wei Prior is a designer and Director of ChaChaanTeng. Central to Wei's practice is a belief in design as a tool to communicate rich stories and create communities.
Each wine case is accompanied with an A3 print.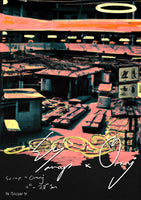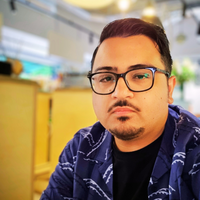 Music: Pinoy Grooves
Pinoy Grooves (aka Chris Campbell) is a DJ of nearly 2 decades experience playing everything from Funk to Soul, Disco, Latin, House, World Grooves and more...
Recently he has DJed, produced events and curated playlists for Don Papa Rum (Casa Sugarlandia), Our Place is Here with Jasmine Hemsley, Brixton Village Lates, Sarap Baon (Brixton), Sarap Restaurant (Mayfair), Little Louie, Louie Louie, The Adobros, Camberwell Fair, Kusina, Mamasons and Ton Tons to name a few.
As well as having his own monthly show on Soho Radio London he has also guested on Sonrisita's Artform Radio for Worldwide FM, Vex Ruffin's Manila Times on NTS Radio, Ikigai Radio, Manila Community Radio, UNKNWN Manila podcast, Madera Verde on SOAS radio, Totally Wired Radio and is also a regular guest on Mono Loco Mixtape & The Night Jazz Flight on Soho Radio.
https://pinoygrooves.com/
https://www.mixcloud.com/pinoygrooves/