Featuring Angus & Lale Oztek-Pook
This month the couple behind neighborhood restaurant and bar 'The Nook' have curated March's wine case. Not only do they co-own and run the restaurant together, but they are husband and wife, each wine was signed off by the both of them. Day to day Lale runs the kitchen, Angus the front of house. Their restaurant is famous in Islington for delicious plates of modern European dishes with a heavy Mediterranean influence thanks to Lale's Turkish heritage. Angus is never far from a set of decks, and so he's provided us with this month's mix too.
Buy Case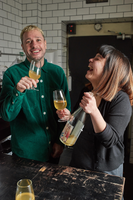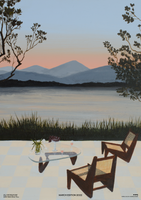 Artist: Josephine Zentner
Josephine's paintings feature situations that aren't as far fetched as melting clocks but still feel surreal and magical. Josephine has a love for iconic furniture. Her paintings are her way of showing her appreciation for beautiful design, by taking items of furniture out of their usual manicured setting and letting them work harmoniously with the imperfectly perfect design of nature. 
Each wine case is accompanied with the pictured A3 270gsm poster.
DJ: DJ Lax
The Nook has music at the heart of what they do, with iconic records adorning the walls and curated playlists always banging over the speakers. For this months mix series Gus one of the owners, compiles & mixes a range of tracks from several different genres that all share some kind of Hip Hop & RnB references.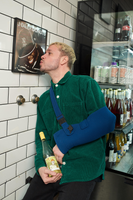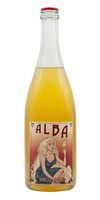 Vinos Ambiz • Alba Pet Nat • Albillo, Airén • Sierra de Gredos, Spain • 2020 • Orange Sparkling
Description: Natural wine making aficionado Fabio Bartolomei's Vinos Ambiz wines have been on our wine list from day one! Fabio's wines are always experimental, playful and both challenge & delight in equal measure!
Alba Pet Nat was born somewhat by accident. Fabio had picked a lot of Albillo and fermented and aged it normally as his Alba – crushed, 6 days maceration, pressed and then passed to large amphora for fermentation and ageing. After the fermentation was finished Fabio tasted the wine and thought it wasn't complex or ripe enough for his Alba so what he did was added some fermenting Airén juice (also macerated 6 days) to the finished wine and bottled it immediately after. The wine was then left 6 months in bottle on the lees before disgorging.
Tasting Notes: Typical to Fabio's wines Alba Pet Nat hits your palate first with the incredible fruitiness; peach and apricot but also more complex with caramel notes so it leaves a cooked fruit and nutty complexity, almost creamy. Fabio's wine making skills shine through with this Pet Nat, not just your typical aperitif but something to pay attention to.
Food Pairing: This wine can easily be enjoyed on its own to kick off an evening of wine drinking, we recommend to keep it simple to enjoy the complexity and the light fizz. A bowl of salty and almost buttery Marcona almonds will do perfectly.
Wine Preparation: Pop it open straight out of the fridge and better to finish it in one go to make the most of the fizz.
Bota Nostra • Jeff • Carignan Noir, Macabeu, Grenache Noir, Grenache Gris, Lledoner Pelut • Roussillon, France • 2019 • Red
Description: Besides having one of the greatest wine names to ever grace our list, Jeff is a fantastic, Carignan heavy field blend from Rousillon based Bota Nostra.
Bota Nostra's Raymond Manchon has a simple wine making formula: With a total of 18 hectares, he sells the lion's share of his grapes to the local organic co-operative. His very oldest plots, with ancient vines (between 80 and 110 years old), plots that have become economically 'unviable', he keeps for his own production. Raymond chuckles at this, how these are the best grapes from his entire estate, yet the co-op only pay by the kilo so these very low-yielding vines are the ones Raymond selects for his miniscule production of roughly 3,000 bottles annually, all vinified in a DIY-insulated corner of his home garage in Estagel. 
A field blend from 80 year old bush vines co-planted with different varieties. These are Raymond's lowest producing at just 10hl/ha (this means that only around half a bottle is produced per vine!). After a long whole bunch maceration the juice is passed to old oak barrels for ageing of 9 months. Bottled with no additions.
Tasting Notes: Rich & meaty on the nose, super plumy, with a hint of liquorice & spice. With soft tannins and slight acidity Jeff is well balanced & smooth on the finish.
Food Pairing: Simple - a selection of stinky, creamy and rich cheeses, your favourite crackers and some saucisson sec, if you can get a Beaufort saucisson even better.
Wine Preparation: Have it at room temperature. You don't have to finish it in one go, but remember that it's no sulfites added, so we don't recommend having it open longer than 2-3 days.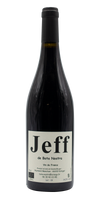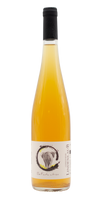 Christophe Lindenlaub • Elefante Citron • Riesling • Alsace, France • 2020 • Orange
Description: The Lindenlaub family has been making wine in the northern Alsace town of Dorlisheim for over 200 years, with Christophe the latest in line to take over the historic domaine. Over the past decade he has worked tirelessly to convert their 12ha to organics and since 2012 has been making some of the most standout zero-addition wines of the region.
Much like their maker, each cuvée bursts with energy. At the core of every one is a strong line of acidity underpinned by a deep salinity on the palate - you could call this Christophe's trademark. Even the more aromatic varieties possess the same quality, giving exceptional length and refreshment. 
The grapes are macerated in whole bunches for 3 weeks and then pressed into stainless steel thanks. Spontaneous fermentation using only indigenous yeasts, and no fining or filtering.This is then aged in old used French oak barrels and bottled with no sulfites.
Tasting Notes: Citrus aromas, orange and grapefruit rind, strong hint of candied fruits, great minerality and slight earthiness.
Food Pairing: A great wine with character like this calls for an occasion. We say cook something special to open this. We recommend getting a fresh piece of white or flat fish and basting it in a lot of butter. You can complete the meal with a massive bowl of citrusy bitter leaf salad.The zingy citrus from the wine will cut through the butter and complement the citrus in the salad. Get your blood oranges and radicchio out, treat yourself.
Wine Preparation: Serve it chilled, but as you go deeper to the bottle you'll see the wine will be opening up with some air and warmth.
Domaine des Vigneaux • Syrah • Syrah • Ardeche, France • 2020 • Red
Description: Domaine des Vigneaux is situated in the village of Valvignere in the Ardeche region of the southern Rhone and is run by fourth generation vigneron Christophe Comte. The estate was founded in 1905 by Christophe's grandfather and attained fully organic status in 2001.
This intense ruby red wine is made from 100% Syrah that is manually harvested, pressed in whole bunches, fermented in concrete vats and aged for 6 months. 
A great all rounder suitable for all drinking occasions! This Syrah has become a staple on our list from being an incredibly easy drinking but interesting offering from Domaine des Vigneaux. It is a rustic spicy little number with a natural spritz which adds to the overall character.
Tasting Notes: Ripe red fruits, slightly peppery and floral. Blackberries and black cherries, wild herbs with soft tannins and good acidity. 
Food Pairing: We'll say being warming but also easy drinking, this Syrah will be a great companion to a long winter walk, grab a pack of fancy crisps and share with your walking buddy, you can even sneak it to the cinema and enjoy a movie with it. You'll be surprised to see the wine will go before the crisps! If you want to have it with dinner; we'll say a bowl of tomato sauce pasta with tons of grated parmesan on it.
Wine Preparation: Serve it at room temperature.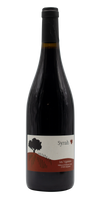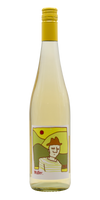 Enderle & Moll • Müller • Müller Thurgau • Baden, Germany • 2019 • White
Description: Our last pick is a 100% Müller-Thurgau from the German natural winemaking OGs Enderle & Moll.
Enderle & Moll is founded on a collective opposition to the commercial winemaking practices of the Baden region. Sven Enderle and Florian Moll came together in 2007 after working separately for a variety of producers, and despite the pervasive trend of farming for high yields, as cheaply as possible they sought out older, very low- yielding wines of incredible concentration and chose to revive them without using any synthetic treatments. Their mission is to produce wines that speak to the terroir of Baden, just as they are; nothing added and nothing taken away.
The fruits are hand harvested, left to macerate for 2-3 days and soft pressed and filled into steel tanks. Shortly after the wine is lightly filtered and bottled with a small amount of sulfites. Super refreshing and an easy drinking white, great for enjoying outdoors now that the weather is finally starting to get better(cough,cough)
Tasting Notes: Notes of green apple and citrus. The short skin contact gives it a little texture but it is still light with medium acidity, spicy aftertaste with light sweetness..
Food Pairing: This is a good light choice for a Sunday lunch. Pop your pork belly into the oven and serve it with apple sauce and this Muller-Thurgau, you're winning.
Wine Preparation: Serve chilled.