December Case: Sessions Arts Club
Sommelier: Molly Pepper Steemson
Molly Pepper Steemson has kindly taken the Christmas reins for December to create our most nostalgic and romantic wine case yet. Molly's journey into wine has come via Michelin starred Brat and Margot Henderson's secret foodie enclave, Rochelle Canteen. Now Molly finds herself "head of wine" at the currently booked out Sessions Art Club in Farringdon, London. For Oranj, she's curated a case that's meant to be enjoyed by everyone over the Christmas period.
When Molly mentioned that Jonny Gent, Sessions Art Club's founder and acclaimed artist, was happy to create a painting that we could share with you in a poster format, it felt like Christmas morning. In his studio below the restaurant floor of the old SAC building, Jonny blurs the lines between restaurant and artistic practice. Used table tops and restaurant ephemera are taken down to the studio, disfigured, sketched on, and painted on, en route to being miraculously transformed into works of art.
Buy Case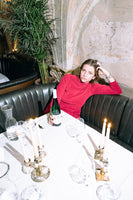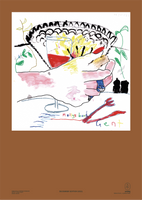 Artist: Jonny Gent
For this piece "Molly's Hand,"  Jonny zeroed in quite literally on Molly's hands: hands adorned with big silver rings on almost every finger, hands that are infamous on the restaurant floor for their percussive clink of metal on glass. It's a sound that reverberates through the 18th century grade II listed courthouse during service. A sound that keeps the orchestra in harmonious rhythm, as it beats out the sweet, sweet melody that is Sessions Art Club.
Jonny's poster [pictured] is included with every case and is printed on heavy weight 270gsm mohawk paper in A3.
Artist Jonny Gent (Born 1976, lives and works in London) is a painter & restaurateur. His work has been exhibited widely throughout the world including Edinburghs Scottish National Gallery, The Freud Museum, Liverpool Museum, The Saatchi Gallery, and he has held several solo shows in Los Angeles, New York & London. Gent is also the founder of Cabin Studio - a hospitality group that creates spaces built on the pillars of art, food and music - mirroring the practice and ethos of his Highland studio retreat.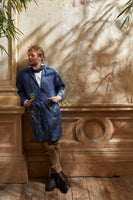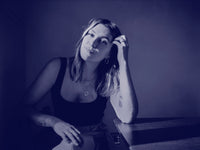 Music: Moxie
Moxie, one of our favourite NTS DJs at Oranj, has taken to the decks for our December wine case. Famously the master of seamlessly fusing anything from classic Chicago house to obscure leftfield breaks, or glittering disco with energetic percussive rollers, entertaining and educating club goers wherever the journey takes her. We've managed to secure an intimate side of Moxie's music collection not usually shared, a selection of tracks that together in Moxie's words are 'tunes i love to listen to in my spare time', that together make up a 'downtempo mixtape vibe' and 'classy a mix for when people are drinking wine'.
Lucie Thieblemont • Crémant Brut Nature • Pinot Noir • Chablis, France • NV • Sparkling
Description: This is Lucie's own project making sparkling wine using the traditional method (and zero dosage) from half a hectare of Pinot Noir in Chablis. Chablis is geographically and geologically incredibly close to Champagne, so expect a cool, elegant, celebratory bottle of bubbly wine. The region is also known almost exclusively for dry, still Chardonnay, so it's something unusual and classic at the same time. One to impress grandparents, girlfriends and weird uncles alike.
Tasting Notes: Fresh fruits (apples, berries) with a little nuttiness and beautiful gentle bubbles.
Food Pairing: This is the wine to turn up with (already chilled, thanks) to a party - it's a perfect Christmas aperitif. If you insist on eating whilst drinking it, something salty would be best. Cheese, or a very salty crisp.
Preparation: Chill well so you don't have to bother with an ice bucket - it shouldn't last you long enough to need one.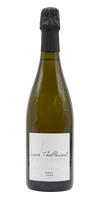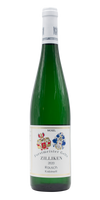 Zilliken • Saarburger Rausch Riesling Kabinett • Riesling • Mosel, Germany • 2020 • White
Description: This is as traditional as Mosel Riesling gets. Fermented and matured in traditional Fuder barrels, this off-dry, low-alcohol (7.5%) wine is a perfect antidote to heavy Christmas drinking. It is, however, still indulgent: Thesweetness and crisp acidity of this wine combine to make for a pretty luxurious drinking experience. The Zilliken bottles are also beautiful, festive affairs complete with a crest and coat of arms.
Tasting Notes: Gooseberries, green grapes, melon. Lushness and freshness.
Food Pairing: This wine is meant to be drunk in the lost days between Christmas and New Year, with a spicy leftover turkey curry. It is a remedy, of sorts.
Wine Preparation: Serve chilled, don't think too much about it. This wine would also age beautifully if you can stand the wait and have the space to do so.
Elio Sandri • Barbera d'Alba Superiore • Barbera • Piemonte, Italy • 2018 • Red
Description: Elio Sandri's Barbera is both a drinkable and serious red wine from Barolo country - a balance that's not always common, especially in Piemonte. It's full bodied but has gentle tannins and has a freshness that can sometimes be lacking when choosing 'Christmas' reds. Sandri uprooted his prestigious Nebbiolo vines to plant Barbera so it's something particularly special. It's a small production, and spends 8 months in oak barrels before bottling.
Tasting Notes: Currant-y, chocolatey, juicy and bright.
Food Pairing: Drinking with goose or turkey and redcurrant jelly is a little obvious, but would work perfectly. A good one for the 'after dinner sitting around the table sharing a bar of fancy dark chocolate' of course, too.
Wine Preparation: Don't make the mistake of serving this wine at room temperature - Christmastime rooms tend to be hot (fires, candles, heated arguments etc.) so keep the wine in the fridge and take it out an hour before you might want to drink it, you could even open it then, too.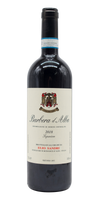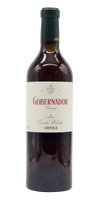 Emilio Hidalgo • Gobernador Oloroso • Palomino • Jerez, Spain • NV • Sherry
Description: Emilio Hidalgo Hidalgo set up Bodegas Emilio Hidalgo in the late 1800s. Now run by the 5th generation of Hidalgos, who make legendary world-renowned Sherries. This one  - the Gobernador Oloroso (which is the richest style of dry Sherry) is a wine that can stand up to just about anything. In the UK people tend to think of Sherry as something for the beginning or the end of a meal, but this one is an exceedingly good food wine, worthy of a thoughtful Christmas pairing.
Tasting Notes: Salty and nutty and savoury and caramel-y and full bodied and rich and textural and exciting and delicious.
Food Pairing: I imagine eight people sitting round a table all feasting on little game birds and drinking a glass of this. Fewer than that and you're looking at everyone getting very drunk very quickly; however you could leave some for the next day and make some knock-out sherry & tonics, with a slice of orange (or tangerine), please.
Wine Preparation: Serve chilled. Will last open in the fridge for a little while (a week), but not forever. Nothing is sadder than a forgotten bottle of now-undrinkable sherry.
Niepoort • Ruby • Port Blend •Douro, Portugal • NV • Ruby Port
Description: Port is the most christmassy drink I can possibly think of, and this is no exception. Niepoort Ruby is more approachable than some of their older, more tannic options, and a brilliant gateway-Port. It is still, however, incredibly traditional: the grapes are foot-trodden in Lagares and the wine is aged in large wooden vats. Port also keeps well once it's been opened, so you could have a mince pie and a glass of Port every afternoon for a week.
Tasting Notes: Bold, dark red fruit and mellow. Father Christmas in a bottle.

Food Pairing: This is not a suggestion, but a direction: Invite two or three friends over, buying the same number of eccles cakes as there are people. Place the eccles cakes on a board, with a sharp knife, and a large slice of hard cheese. Light candles, drink Port, and set the world to rights. This is a tradition started with my friends Abi and Joseph last year and is one that we will carry on for as long as we possibly can. A proper festivity.
Wine Preparation: No need to decant this one (the bottle is too pretty anyway). Serve just below room temperature (perhaps store in a downstairs bathroom or, like I do, under the bed).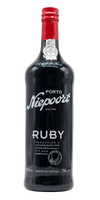 *** LIMITED AVAILABILITY ***
• Due to the rarity of the wines chosen by Molly we have only 90 wine cases available •
• Choose ClubOranj (subscription) to receive a sommelier curated wine case and artist commissioned poster monthly •
• Treat yourself or someone you love now •