Little Duck | The Picklery
Wines curated by Meghan Morrell & Rory Moore
We are very lucky to have a double whammy this month. Meghan Morrell and Rory Moore of Little Duck | The Picklery in Dalston together curate a wine case with Spring on the mind. Wines you could have with an amazing dinner, or just float over to a park picnic with them, extra chilled.
Buy Case
Artist: Julia De Courcy
Julia de Courcy is a Canadian mixed media artist currently living in east London.
Each wine case is accompanied with the pictured A3 270gsm poster.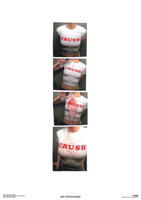 DJ: Mo'Min Swaitat
Over several years, Mo'min Swaitat has amassed an archive of rare tapes and vinyl from Palestine and beyond, spanning field recordings of weddings to revolutionary tracks and synth-heavy 80s funk. Many of these were acquired from a former record label in Jenin in the north of the West Bank. The Majazz Project is a research project borne out of the archive, focused around sampling, remixing and reissuing vintage Palestinian and Arabic cassettes. It is a collaboration between Arab and non-Arab DJs, producers and artists interested in shedding new light on the richness and diversity of Arabic musical heritage. The aim behind Majazz Project is to safeguard the Palestinian sound archive and to make it more accessible in online and physical formats. It is also an outreach research project to connect Palestinian bands from the 60s, 70s and 80s with new audiences and to make their music available through streaming platforms both in their original form and reinterpreted and remixed by DJs, artists and musicians.  Listen to mix here
Quarticello • Ferrando, 2020 • Lambrusco Salomino • Emilia-Romagna, Italy • Sparkling Rosé
Description: Nothing says springtime to us better than chilled Lambrusco in the park - this is our bottle of choice for the warmer nights ahead…
Tasting Notes: Intensely herbal with plenty of pomegranate, sour cherry and a blood orange bitterness. Finishes on a slightly nutty, savoury note.
Food Pairing: A great aperitivo companion - enjoy with some fennel salame or a pizza! Anchovy or broccoli and sausage would be our shout, and don't skimp out on the dips for the crusts
Wine Preparation: Serve with a good chill and watch it sweat in the sun.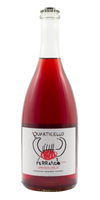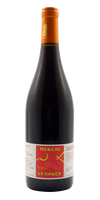 Sablonettes • Menard Le Rouge, 2020 • Gamay, Grolleau, Chenin Blanc, Cabernet Sauvignon• Loire, France • Red
Description: The kind of red that got us into drinking natural wine - juicy, playful and suits a chill. This is a whole bunch blend of Gamay, Grolleau, Chenin Blanc and Cabernet Sauvignon with that signature carbo fruit.
Tasting Notes: Bright and crunchy, full of plums and cherries and a refreshing mineral edge.
Food Pairing: The perfect picnic bottle, crack open with some Loire Valley goat's cheese - selles sur cher would be our choice, a good pate en croute, and some spicy, briny gordal olives.
Wine Preparation: Serve at white temperature.
Kamara Estate • Nimbus Ritinitis Retsina, 2020 • Assyrtiko • Thessaloniki, Greece • Orange
Description: A wild and hazy orange Assyrtiko, fermented with pine resin from the Evia mountains.
Tasting Notes: A real mouthful with loads of bitter citrus and tropical fruit. Layered with intense herbaceous notes of oregano, thyme, lavender and of course, pine. A wine that grabs your attention from the first to the last sip.
Food Pairing: Chicken souvlaki with all the trimmings… Salad, chips and a garlicky, herby tzatziki. All other, less glamorous, kebabs are welcome too! As a wine, it pulls you in lots of directions so would be great with many different dishes but anything that needs a bit of zip alongside it is perfect.
Wine Preparation: One to drink in a single sitting with a slight chill.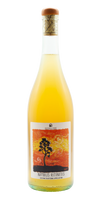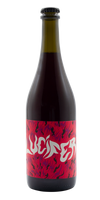 Marco Turco • Lucifer, 2020 • Pinot Noir • Veneto, Italy • Red
Description: A style of wine we love to drink, but in a different guise… A partially carbo, partially destemmed Pinot Noir from Breganze, Italy. A bit of a curve ball of a wine - drink it blind you'd think you were in the Auvergne with its familiar wild flower perfume and salinity.
Tasting Notes: A slight spritz upon opening, lip-smacking tart red berries, a hint of smoke and hibiscus, and a salt + pepper finish. NICE!
Food Pairing: Its got the acidity, smoke and spritz so one to bring to your first BBQ as a bit of a surprise for your mates. Great with some grilled lamb and asparagus with some herby chopped salads.
Wine Preparation: As ever, another one best served chilled. Can be a little flinty upon opening - if you give it some time in the glass you'll get a few different wines out of the bottle.
Super Glou & Fond Cyprès • Blanc, 2020 • Grenache Blanc • Corbières, France • White
Description: Crisp Grenache Blanc from Corbières, a classic white that you could drink with anyone at any time, familiar but no less interesting for it.
Tasting Notes: Easy drinking but with something to say for itself! With a fine texture, peachy fruit and white flower perfume, it is an ultimate springtime refreshment.
Food Pairing: A grilled peach salad with fine beans, some aged salty cheese or an ajo blanco and plenty of fresh mint. Also a perfect partner with some white fish and a herb heavy sauce. Always a side of buttery potatoes.
Wine Preparation: The kind of wine that we would love to bring out for a late lunch, which suits a good chill - it can take it.