February Case: Quality Wines
Sommelier: Marcos Spyrou
Marcos Spyrou (formerly of Levan, Portland, 10 Greek St.) is the general manager of one of our favourite wine bar/restaurants - Farringdon's Quality Wines (directly next door to sister restaurant,  Quality Chop House). The incredible food is headed up by chef Nick Bramham, while Marcos handles the wine list alongside Chris Madden, and together with their team keep the front of house running smoothly.
We initially met Marcos during one of the lockdowns when he was working at importers, Wines Under The Bonnet.
Buy Case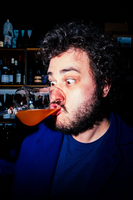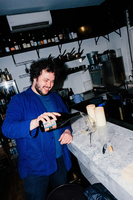 To keep within the rules at the time we would do garden wine tastings (very different from the ones in Downing Street). This was work, but certainly didn't feel like it with Marcos around. 
At a time when we couldn't leave the country, tasting with him was the closest you could get to foreign travel. Storyteller Marcos would wizz you off to villages in the backlands of the Loire to be with tough, determined winemakers like Xavière Hardy (more on that in Marcos's words below). Or describe in detail how the Swiss took grapes to Chile, making some of the vines (200+ years) older than Europes, due to disease back there. Sharing intimate insights from winemaker Roberto Henriquez, via voice notes sent to Marcos, recorded directly on Roberto's tractor in Bio Bio.
There was always so much to hang on to, and these meetings made us fall in love with wine and the winemakers even more.
SEE WINES
Since Marcos has taken the job at Quality Wines it's become a regular for us at Oranj. Their wine list is phenomenal. Whether you're in the mood for something absolutely out of this world, super 'natty' and funky, or an older classic, this is a list that has it covered. 
Which is not to forget Nick's consistently brilliant food and the perfect service at Quality Wines. We highly recommend a trip there if you haven't been already. 
So having Marcos curate a case for Oranj is an absolute honour and joy. Join him on our February tour. Case details below.
BUY CASE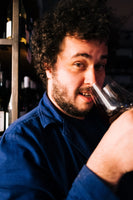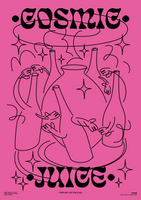 Artist: Emma Dragovic
We're lucky to have Emma Dragovic make us this month's artwork. Somebody who has done some incredible graphics for us in the past. Emma is a London based Graphic Designer, with a specialism in designing for the food, drink and hospitality sector.
In Emma's words 'The poster pays homage to the moon and soil worshiping practices of biodynamic viticulture. I wanted to capture the charisma and personality of the wines made using these methods - they're bright, full of energy and sometimes a bit rough around the edges.'
Each wine case is accompanied with the pictured A3 270gsm poster.
DJ: Baron
We met Baron at an afterparty during Amsterdam's infamous Dekmantel festival, it was love at first sight. Colombian-born and South-East London raised Baron aka Luis Sabogal has been cutting his teeth in rave culture for over a decade now, with a plentiful host of experience under his belt. Earning his first stripes as a DIY rave pioneer under the OS community banner, of which he is a co-founder, he has slowly navigated his way through today's often problematic electronic music scene to formidable success. All of his work, ranging from community focused workshops, night curation and *day-to-day attitude*, are permeated with an intense pride for both his heritage and background, and a longing to be able give something back to both. Expect razor sharp dance cuts, leftfield techno & house, bass and maybe some music from his native Colombia.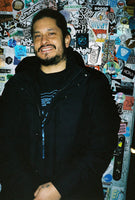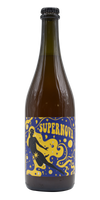 Marco Turco • Supernova • Vespaiola, Garganega • Breganze, Italy • 2020 • Sparkling
Description: Col Fondo predominantly of Vespaiola (an indegenious variety from Breganze, feels like the Mediterranean, tanned cousin of Riesling) on skins for 3 days in fibreglass. Secondary fermentation is sparked by must from the same grapes, proper.
Tasting Notes: On the nose it's all aromatic, green tropical fruit and herbs, actually unripe Guanabana Rubicon (only from a can). Then sour dried mango acidity and refreshing bubbles.
Food Pairing: Fried Kefalotyri Saganaki on Paros, in September, it's 1998.
Wine Preparation: Get chilled or Supernova!
Les Terres Bleues • Ma Garance Voyageuse • Grolleau • Muscadet (sort of), France • 2020 • Red
Description: Miles away from any other vines, having to lobby the local council to even plant, and training Albarello, Etna style. Xaviere Hardy: she does what she wants. This cuvee, named after her granddaughter, is 3 different fermentations of a small patch of Grolleau (grape of the year 2023), full carbonic, destemmed and whole bunch, it vibrates with her robust stubborn soul.  
Tasting Notes: Brambles and blackcurrants with metallic (c)ore. This wine's got the minerals.   
Food Pairing: In a pint glass with a pack of frazzles, the Coach & Horses 
Wine Preparation: If you're sitting outside the pub in February, it's the right temperature. Get it open and drink it.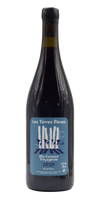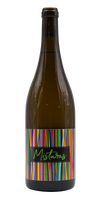 Constantina Sotelo • Misturas • Albarino • Rias Baixas, Spain • 2020 • White
Description: I like lots of Constantina Sotelo's wines. She works mostly with Albarino using many different approaches in the winery and not bending to the will of the conservative, male dominated DO. This is a direct press and spends some time on its lees, which rounds it out a touch. It's explosive and cleansing but balanced.
Tasting Notes: An invigorating smash of lemons and rock salt, The Pan Galactic Gargle Blaster. 
Food Pairing: Fish and Chips, maybe a battered sausage for good measure.
Wine Preparation: Nice and cold, it can take it.
Petr Korab • Karmazin • Frankovka • South Moravia, Czech Republic • 2020 • Red
Description: The local name for Blaufrankisch, Karmazin is picked from a vineyard planted in 1934, pressed and then aged in acacia barrels. Korab is based in the Czech winemaking hub of South Moravia. This is moody, with proper ferrous intensity and acidity. 
Tasting Notes: Blackcurrants, iron filings, the local key cutters, blood.
Food Pairing: Ox tongue and horseradish, what was Bram Stoker's last supper?
Wine Preparation: Open a touch before dinner, with a rusty spoon on the galley of the Demeter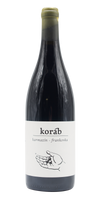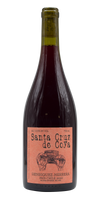 Roberto Henriquez • Santa Cruz de Coya • Pais • Bio Bio, Chile • 2019 • Red
Description: Roberto is always on the lookout to save old vineyards many of which are under threat of damaging reforestation (sounds weird, I know) using non indigenous pines. The Pais from this vineyard is up to 200 (!) years old. It's destemmed and pressed, fermentation takes place in concrete. Light and low tannin, texturally exuberant and mouth filling. There's lots of life in the old vine yet.
Tasting Notes: Bright strawberries, hot earth hard herbs, wine gums, raspberries.
Food Pairing: Nick's mortadella & butter panino at Quality Wines
Wine Preparation: In the fridge for a bit, don't worry too much, enjoy it!