Restaurant: Manteca
Emily Acha Derrington has been operating in fine wine for the past 15 years. She's worked for some of the UKs most esteemed wine and spirits merchants developing lists, sourcing winemakers for portfolios, heading up tastings and events, all before submerging herself restaurant side for the likes of Temper. But when talking to Emily, it's clear, this was really all just building towards that one special project, Manteca. 
Manteca is a restaurant that brings together a partnership between Emily, her partner and head chef Chris Leach, and David Carter.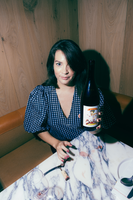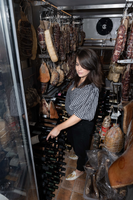 After a short stint in a Soho location they relocated to Shoreditch during the height of covid gutting an old Pizza Express opposite the iconic 'American Car Wash' to install what is quickly becoming one of London's most important restaurants.

This is where Emily finally felt ready to install 'the list', one that she'd been designing for years to suit Chris and her concept of a restaurant that focussed on meats cured in house in a bespoke salumeria, nose to tail cooking and hand rolled pasta.
SEE WINES
It's this nuanced conversation between food and wine that puts this restaurant in a league of it's own. They've created a unity that means every dish on the menu has a wine that actually compliments it, proving you shouldn't have to fork out hundreds of pounds on a tasting menu or wine flight to have that level of experience. 
For this month's wine case Emily has decided to share wines that when available, are main players on the restaurant list. This case is a representation of Emily's finely tuned palate and an exclusive deep dive into the highly personal, and curated cellar that she manages at Manteca.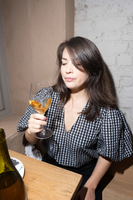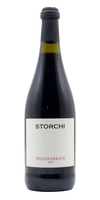 Storchi • Pozzoferrato Rosso Reggiano DOC, 2019 • Lambrusco Salamino, Ancellotta, Lambrusco Maestri • Emilia-Romagna, Italy • Sparkling Red
Description: a blend of lambrusco salamino, lambrusco maestri and ancellotta. vineyard management is 100% natural and biodynamic. no irrigated water used. natural fermentation in concrete, ancestral method to create the fizz, then 8 months in bottle.

Tasting Notes: tastes like sitting in a cobbled pavement cafe in bologna, surrounded by the wafting aroma of ripe mortadella and prosciutto, wondering where the evening will take you... this gently sparkling red delivers grown-up brambly fruit flavours, a lick of savoury black olive and a good tannic grip.

Food Pairing: manteca salumi or M&S duck spring rolls, for a slightly more "friday night at home" feel.

Wine Preparation: chill to 10/11 degrees, open, enjoy.
Fattoria di Sammontana • Primo Fuoco Bianco, 2020 • Trebbiano • Tuscany, Italy • Orange
Description: estate-grown fruit, organic & biodynamic; only the best parcels of trebbiano are selected for this. destemmed grapes spend three months with skins and a further 6 months in local clay amphoras, once the juice has been pressed. unfined, unfiltered, tiny bit of sulphur at bottling.

Tasting Notes: 'bianco' in that it's made from white grapes, but don't be fooled - this wine is a joyous, tangerine peel-scented, orange wine: structured and firm, but with a salty complexity and savoury character that needs something else complex and savoury to go alongside it: the brown crab cacio e pepe tonnarelli at manteca - umami, peppery and lusciously lactic, or perhaps porchetta tonnato - cold cuts of pork loin and belly, smothered in tonnato sauce with bursts of acidity from the
capers. even salted, slightly meaty crisps, like those torres jamon ones, would work.

Food Pairing: tonnarelli brown crab cacio e pepe, porchetta tonnato, or some of those ridiculous torres jamon ibérico crisps.

Wine Preparation: chill to around 16 degrees, open 30 minutes before you want to drink it, or decant before serving.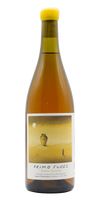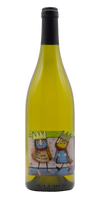 Vincent Caille • Je t'aime Mais J'ai Soif, NV • Melon de Bourgogne, Sauvignon Blanc, Semillon • Muscadet, France • White
Description: blend of melon b (organic), sauvignon and semillon. winemaking: indigenous yeasts, with fermentation and ageing in underground cement tanks. Long aging on lees ensures Vincent's wines are soft, complex and a cut above standard Muscadets!

Tasting Notes: this fun blend was created in 2017 due to a disastrous harvest; buying some Marsanne from a friend in the Ardèche, Vincent now makes this each year, changing the blend as he sees fit. the addition of sauvignon and semillon to the melon b in this blend adds a lemon citrus character, and a weight that makes this a wine that can stand up to a bit more tang, aromatics and herbaceous-ness - the manteca crudo with cucumber, lemon and fennel is a brilliant pairing.

Food Pairing: sea bream crudo, cucumber, lemon and fennel.

Wine Preparation: Chill in the fridge, serve around 10 degrees.
Heimann & Fiai • Szekszárd Kadarka, 2021 • Kadarka • Szekszárd, Hungary • Red
Description: a wine project by Heiman's son – doing things very differently to his father: carefully selected parcels of kadarka (an indigenous hungarian variety), from around Szekszárd, southern Hungary, 30% whole bunch, delicate extraction and 12-1 days contact with the skins; undergoes malolactic fermentation and then is aged in steel for 8 months. unfined & unfiltered.

Tasting Notes: a wonderfully unusual varietal that drinks somewhere between a poulsard, pinot noir and gamay. slightly cloudy in the glass, smells like squishing a bowl of warm, ripe cranberries and sour cherries into a forest floor; as you drink it, the tannins grip, but only to suggest you should be enjoying it with something like a silky duck ragu with fazzoletti.

Food Pairing: fazzoletti with duck ragu.

Wine Preparation: chill to 18 degrees, open 30 mins before serving, best served in burgundy-style glasses, if you have them.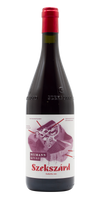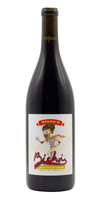 Bichi • Místico, 2019 • Misión, Rosa del Peru, Tempranillo, Cariñena • Valle de Guadalupe, Mexico • Red
Description: a blend of grapes from a dry-farmed high elevation (300m) site outside tecate, in the valle de guadalupe in baja california; unlike most wines made in this area, the winemaker (brother of famed mexico city chef) works the land biodynamically, ensuring the grapes speak for themselves. 'bichi' means naked in the local dialect, which is exactly what these wines are. místico is a field blend of different varieties (some unknown, hence the name 'mistico'), including some very old, recently recovered vines of mísion and rosa del peru, alongside cariñena and tempranillo. fermented in concrete tinajas for 3 weeks, some carbonic maceration to add freshness, then 3-month aging in steel and neutral oak. no fining or filtration.

Tasting Notes: black cherries, macerated in a touch of amaretto, cola-spice and earthy wood. the acidity means that this is a wine that's crying out for some of mexico city's famous heat-meat tacos: steamed and simmered in fat and juices making it richly textured and gelatinous. failing that, it's a wine i'd have with a long-braised cut of soft meat (nothing too aged or strong in flavour) - like the pig snout at manteca.

Food Pairing: head meat tacos/ pig snout at manteca.

Wine Preparation: open this bottle at least half an hour to an hour before you want to drink it. Don't serve it too warm - you'll see the wine open right up and the become lifted, floral and perfumed
Artist: Studio SPF
Tegan Ashmore is an abstract painter and Lottie Hughes a tattoo artist and illustrator and together make up Studios SPF. They make use of references from image-saturated digital landscapes to prompt a form of role-play. Poses and gestures are mimicked, re-imagined and re-incorporated onto the canvas. The context where bright shades of blues are spatulated onto the work, creates textured volumes and geometric patterns that inform the figurative mark-making. The corners of a cube, the curve of a vase traces a band of angular swirls, and contrasting tiles are conceived through the inked chest of an enfant terrible. 
Each wine case is accompanied with the artwork printed on A3 270gsm mohawk paper.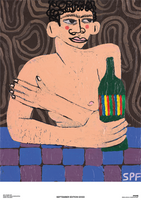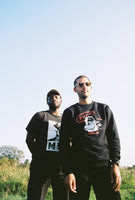 Music: 404 Eros
This month 404 Eros deliver a wonderfully eclectic adventure.
The London born and raised duo have been cultivating their eighties/nineties inspired 808 driven, synth-soaked sets since their university days. Conversations about their love of hip and soul bonded them from early on and since reconnecting in LA the dance-floor romantics have been exploring a rich tapestry of sounds from Street Soul, R&B, Boogie, Lover's Rock, House and Techno and more.
PLAY MIX