July Case: Rita's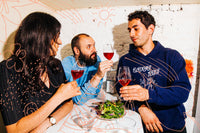 Featuring Missy Flynn, Gabriel Pryce, Cameron Malik-Flynn, Molly Cranston and Fervent Moon
When Rita's co-founder Missy Flynn reached out this year on a cold February evening, to discuss a possible Summer collaboration that would coincide with the launch of their new Soho restaurant, it was taken as a massive compliment, and met with a big heart felt yes. What we didn't realise is that when you work with Rita's, you don't just get Missy and co-founder head chef Gabriel Pryce, but also Missy's brother and drink aficionado Cameron Malik-Flynn, long time artist and design collaborator Molly Cranston, and NTS DJ Fervent Moon, a dream team of sorts. It also turned out that July would be a huge month for us, our 12th curated case during what has been a bonkers but amazing year, and so forming the final jigsaw piece in a year long calendar now full of incredible collaborations with some of London's best food and beverage players, artists and DJs.
BUY CASE
What's included:
🍷 Two or five curated natural wines curated by Missy & Cameron
🥙 Missy & Cameron's tasting notes and food pairings in a bespoke booklet
🔥 Rita's house chilli oil
🌺 Poster by Molly Cranston
🎧 Mix by Fervent Moon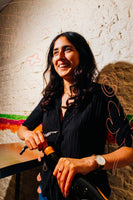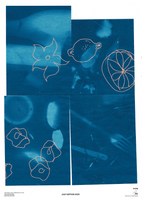 Artist: Molly Cranston
Molly Cranston is a multidisciplinary designer and writer based in London and works FOH at Rita's! Her practice lies in research-based illustration, graphic design and book making. Currently she's in the process of setting up a studio with her best friends.
Music: Fervent Moon
Friend of Rita's, NTS resident Fervent Moon has put together a little mix for your listening pleasure.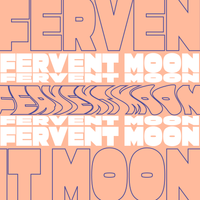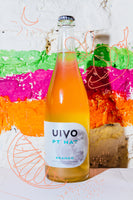 Folias De Baco • PT Nat Branco • Arinto, Bical, Rabigato, Alvarinho, Moscatel • Douro, Portugal • 2020 • Sparkling White
Tasting Notes: Funnily enough when I first tasted this wine it really reminded me of a Mexican cocktail, the Paloma, which I think makes it the perfect opening for the Ritas x Oranj case.. Like a Paloma it's refreshing & spritzy with white grapefruit flavours. Unlike the cocktail it is made in the ancestral method by Tiago Sampaio, a young winemaker who has taken over his families' plot of vines in the Douro working with a range of local & imported varietals. When autumn eventually comes round I'd recommend seeking out his Pinot Noir Pet Nat. [C.M.F]

Food Pairing: Oysters in the Rita's Soho garden. Second best - oysters in your garden or local park. [C.M.F]
Azul Y Garanza • Naturaleza Salvaje Blanco • Garnacha Blanca • Navarra, Spain • 2020 • Orange
Tasting Notes: My personal taste tends to steer me away from Spanish wines (sorry!) so when I come across something that I immediately love I tend to get over-excited and.. a little overindulgent. This is what happened when Nic at Modal first brought us this to try. It's proven to be a really crowd-pleasing Orange / Oranj at our store Bodega Rita's and has so many qualities that evoke its origin in Navarra, the largest desert in Europe with a beautiful landscape - recommend googling it. Grapes here feel the effect of hot days and cool nights so they are deep and concentrated, especially these low-yielding bush vines at Azul y Garanza. The wine spends 6 months fermenting in Spanish Amphora, presented unfiltered and unfined and is rich in flavour with stone fruits and herbs. [M.F]
Food Pairing: Mackerel tostada por favor! [M.F]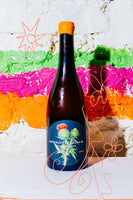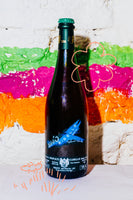 Camillo Donati • Ribelle Rosato • Barbera • Emilia-Romagna, Italy • 2019 • Sparkling Red
Tasting Notes: Camillo's biodynamic wines have become a staple for a lot of people during the pandemic - the inky lambrusco appropriate for the rubbish weather we've had so far in the UK. Now it's hotter, it's time to move onto the Ribelle Rosato. The perfect summer sparkling red it's made from 100% Barbera & enriched with sour cherry flavours, some crunchy tannins & a light herbal finish. *Eccellente* [C.M.F]
Food Pairing: Cold cuts & cheese [C.M.F]
Cantine Marilina • Sketta • Grencanico • Sicily, Italy • 2019 • Orange
Tasting Notes: Cantina Marilana is a 60 hectare winery established in 2001 run by sisters Marilina and Federica Paternò in Southeast Sicily.  The Sketta is made with 100% Grenanico from vineyards worked biodynamically & vinified in concrete for 6 months and then in bottle for 3 months. This results in a sprightly but rich and aromatic wine, though the calcareous soil of the region neatens this with a firm acidity that works perfectly with all my favourite park and garden foods. I picked this bottle from our friends at Uncharted because it offers great value for money whilst giving a gutsy flavour profile and distinct oxidative note. [M.F]
Food Pairing: I'd love this with a couple of sweet carabineros or even a plate of loaded nachos. [M.F]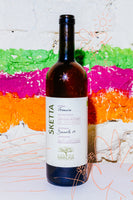 Domaine Les Arabesques • Ocarina • Syrah, Grenache, Carignan • Languedoc-Roussillon, France • 2019 • Rosé
Tasting Notes: I love drinking pink wines all year round, especially the darker styles, and this is one of my favourites being both complex & easy going. Grown on black schist it has a unique flavour profile; almost mushroom like umami, dense red fruits on the palate & a bouquet of Mediterranean herbs.  Kinda serious whilst super refreshing and definitely an interesting pairing with loads of different styles of food.… [C.M.F]
Food Pairing: Any of the sandwiches at the new Bodega Rita's ;) [C.M.F]