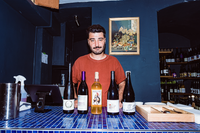 Wines curated by Mangal 2's Ferhat Dirik
For years Dalston's Kingsland Road has tempted people from far and wide to experience traditional Turkish cuisine. On a stretch of this lengthy high street, known locally as "the strip," ocakbasi restaurants crowd almost side by side all the way into Stoke Newington.
Smack bang in the middle of it all is Mangal 2, established by Ali Dirik in 1994. More recently, Ali had begun to hand over the reins to his son, Ferhat, but they stuck to the old formula: classic Turkish cuisine with BYOB. If it ain't broken why fix it? Then 2020 hit, and Ali decided to retire. Ferhat had to decide whether to close, keep the restaurant running along the old lines, or do something else with the space.
Buy Case
Luckily, his younger brother, Sertac, had been clocking up experience in some of Copenhagen's best kitchens. It was time for him to return home, combine forces with his brother, and do something that carried their own stamp. Mangal 2.0 was born. Ferhat manages the front of house, Sertac the kitchen. They swapped lamb beyti sarma, kebab, whole grilled mackerel, grilled onion salad and Efes beers for modern riffs on the classics, leaps into the unknown and, of course, natural wine. 
Now they're famous for their grilled sourdough pide with kaymak butter and cull yaw kofte with grilled apple sauce. And possibly their most popular dish of all, the mushroom manti dumplings. All this can be washed down with one of the most incredible natural wine lists in London, put together by Ferhat.
SEE WINES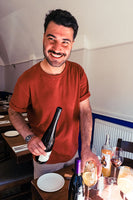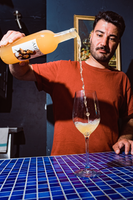 Ferhat records a pivotal moment when beginning to work on the restaurant's new wine list. Sitting down with Frederic Grappe of Dynamic Vines at one of their first big tastings something just clicked. Although he'd literally grown up in restaurants, here was something he'd never encountered before. Before he knew it, he was building a proper low intervention restaurant wine cellar, advised by all the right people. In addition, he enrolled on a sommelier course.
In a short time he'd become very good friends with many of the UK's biggest and most influential natural wine importers. Ferhat's case includes wines that have been selected for their taste but also to celebrate the extremely strong bonds he's made in the community that welcomed him in.
It's fair to say his selection comes from the heart, the palate, and the sacred space that is Mangal 2.
Artist: Zeynep Yilmaz
Commissioned by Oranj, this bespoke quilt was made in collaboration with traditional quilt masters in Istanbul, Turkey. It was designed by Zeynep Yilmaz of yüksük who is doing incredible work preserving this 500 year old ancient craft. The quilt is made from a deadstock silk satin blended material that is thought to have been woven back in the 1970's in Bursa, Turkey.
Each wine case is accompanied with a poster version of the quilt printed on A3 270gsm mohawk paper.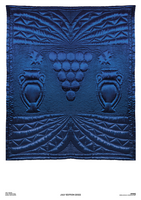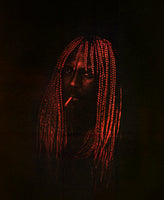 DJ: Josh Caffé
This month we're really excited to have Josh Caffé join us for our mix series. Josh's mix takes us on a moody meandering through trippy breaks, blended with perfection into slapped back, sultry, ethereal electronic bangers. Jump aboard Josh's love train and expect a seamless adventure that stops off with Attica Blues, Al Green, Kruder and Dorfmeister and everything in between. It's immaculate, and a mix that you will want to play over and over, and over again.
Josh has spent the last decade on a breathless trip through the fringes of London's shifting house and techno continuum. As a DJ, vocalist and activist of British-Ugandan descent, Caffé's influence has been felt everywhere from institutions such as Dalston Superstore and Adonis to his own Love Child party, curated at Fabric, where Caffé holds an influential residency. Collaborating with international icons of dance music and fashion such as Honey Dijon, he has become an even more visible and respected presence in recent years. Josh's mix coincides with an upcoming album and off the back of two hit singles 'According To Jacqueline' and 'Do You Wanna Take Me Home?' (remixed by Steffi & Virginia), both effortlessly capture Caffé's vision of queer liberation and sensuality.
PLAY MIX
Angol d'Amig • Scaramusc, 2020 • Lambrusco • Modena, Italy • Sparkling Red
Description: It was love at first sight. I was at a trade tasting and met Roberto and Andrea from SÉN for the first time. We tasted a few wines and immediately fell for Scaramusc. We may have even been their first customer to buy a bulk load of it and sell it by the glass. I guess I believed in it that much. Fast forward almost 2 years and we now stock a lot of wines from SÉN, and Roberto and I are flatmates in Leyton, and Scaramusc is going on stronger than ever. 
Tasting Notes: Lots of sour cherry and cranberry, holds its fizz very well. Bubbly and joyful, with a good level of tannins and a dry finish.
Food Pairing: Perfect picnic sidekick. Cured meats, a strong chalky cheese. Mangal 2 specific: Pair it with our own made 'Çökelek' cottage cheese and a Cull Yaw Köfte. Cheese, meat, wine, pleasure.
Wine Preparation: This one can be served quite chilled, to contain the fermentation and the red berry notes clean.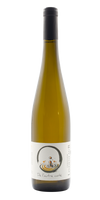 Christophe Lindenlaub • De L'Autre Cote, NV • Auxerrois • Alsace, France • White
Description: Our good friends Francis Roberts and Tom Beattie (of Beattie & Roberts fame) suggested we do an event together, and there was only one name we knew it had to involve - a certain Christophe Lindenlaub. It was an absolute riot, all of his wines and a crowd of industry-led Lindenlovers. These incredibly expressive and flamboyant wines were outmatched by Christophe's personality and charm. Limited in his English, it made absolutely zero difference. Real recognises real, and he worked that floor like Hugh Jackman in a musical on steroids. Such fun, I genuinely cannot wait to see him again - ideally visiting his pastures in the French-German borders of Alsace. 
Tasting Notes: A lot of lemon and yellow apple/pear, unripened peaches, and a little cloudy due to its unfiltered nature. However, it still retains white floral elements and has a rounded finish. 
Food Pairing: I feel the citric elements of this wine will work well with some greens, any spinach or kale based pasta to lift the dish further. Mangal 2 specific: Our grilled asparagus with Turkish Sivri Pepper sauce will work wonderfully together, adding a little sharpness to a plate that's bordering on sweet.
Wine Preparation: As it is quite unfiltered, serve chilled but not too much on the extremes of ice cold unbearability. 10C ought to suffice.
Elisa Guerin • Beaujolais Villages, 2021 • Gamay • Beaujolais, France • Red
Description: Steve from Wayward Wines is the loveliest chap, and I have always looked forward to whenever he is back in London from Leeds for a trade tasting. Matched by his passion and kindness is an array of very good, restaurant-friendly wines and this is the latest addition to our list. A new female producer in a typically male and nepotic world, serving Gamay of fantastic quality, we are proud to serve Elisa's wines.
Tasting Notes: Clean cherry and strawberry qualities but with complexity of pepper, crushed flowers and a slight tang. Holds good structure, not too loose or too fruit-led. The thinking person's gamay.
Food Pairing: Pasta (again, I love carbs - sue me!), pizza, and everything else carb led. Arguably I'd go as far as to say this and fried chicken can work wonders, the crunch of the poultry and the high acidity of this wine can be matrimonious. Mangal 2 specific: Our serve fried chickpea fritters (almost polenta-like in its shape and bite) topped with Haydari (yoghurt and peppers), and again that fried food element with a creamy topping can really match up with this delightful Gamay.
Wine Preparation: Chilled, 8-12C. No debate.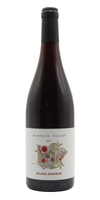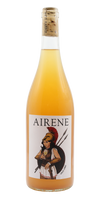 Vinos Ambiz • Airene, 2021 • Airen • Castilla y Léon, Spain • Orange
Description: Working with Fernando of Otros Vinos has been so rewarding and fun. First of all, he is a fantastic guy, fun and not a single fibre of pretentiousness. Secondly, he has so many great wines from Spain, where Otros specialities lie. He has brought many wines which we have subsequently added to our menu, and I trust his tasting suggestions as he is first and foremost a regular customer here who understands our menu. This orange wine is produced by a Scotsman with Italian roots, with a very striking Roman-inspired label. It would stand out on any shelf, and that is also down to the colour of this wine, a thick and glowing orange.
Tasting Notes: There's mango and apricot but for me the most prominent flavours are its herbaceous qualities, with rosemary and sage shining through, with high acidity and a lot of minerality. As fun as the bottle looks, this is a serious drink that cannot be ignored.
Food Pairing: White fish lightly cooked like hake, halibut. Pork dishes, especially cold cuts of roast ham. Mangal 2 specific: Our Monkfish wrapped in vine leaves with a chilli, brown butter sauce base will pair intelligently with this herby aromatic wine.
Wine Preparation: Chilled cold to the bone. 6-8C.
I Mandorli • Sangiovese, 2020 • Sangiovese • Toscana, Italy • Red
Description: God, I love this wine! Marco from Passione Vino (who has sadly moved back to Italy) introduced me to this incredibly giving wine. It's quite conventional, strong and tannic but fruit-forward. A perfect food wine, one that can suit most meals and cuisines, but especially with broad flavours that can satisfy any wine drinker, from natural wine enthusiasts to more traditional, conservative wine lovers. Why? Because it simply tastes good!
Tasting Notes: Blackberry, blackcurrant, with violet flowers and a little white pepper. Berries burst with pride. Little earthy, too, and a good level of tannins, but all-in-all it is perfectly balanced.
Food Pairing: Red meat, no doubt. Roast dinners, steaks, hearty lasagna. Any wintery dish like a stew. Mangal 2 specific: Our beloved Cull Yaw (mutton) loin sitting on a bed of black lentils with sweetbreads. Body meets body, both working in symphony to match up in the glorious sense.
Wine Preparation: Room temperature provided it's not a baking hot summer day.