August Edition: Natural Winemaking Women
Sommelier: Holly Willcocks
This month we've asked good friend, and sommelier Holly Willcocks, from Noble Rot to suggest a theme for our first ever box. She's chosen to celebrate five of her favourite natural winemaking women.
Owing to the rarity of Holly's wine selections we have only 149 of these boxes available. All orders will receive a poster specially commissioned from Laura Callaghan.
We believe wine is best served with music, so we invited Marsha Smith (NTS) to put together a little mix and blend for us, and for you to listen to with a glass of wine in hand.
[149/149 SOLD OUT]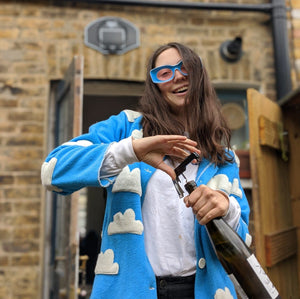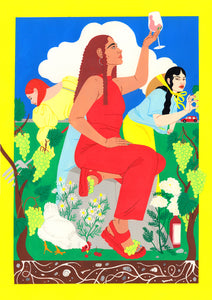 Artwork by Laura Callaghan
Every Holly Willcocks case comes with this limited edition artwork by Laura Callaghan. Each print is liquid inked onto 270gsm A3 mohawk paper.
Laura is an Irish artist living in Belfast. Her work is largely hand painted using watercolour, gouache and isograph pen, and depicts women in colourful, maximalist environments. Part fashion illustration, part satire, she creates images that are ostensibly bright and beautiful but that cultivate a sense of unease and humour.
Holly's August Selection
Fanny Sabre | Aligoté | 2017 | White
Domaine de Gramenon | Poignée de Raisin | 2018 | Red
Calcarius | Roz Puglia IGP | 2019 | Rosé
Arianna Occhipinti | SP68 Bianco | 2019 | Orange
Les Granges Paquenesses | La Mamette | 2018 | White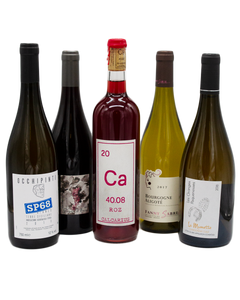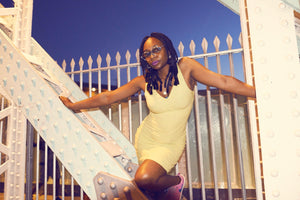 Mix by Marshmello
Marsha by name and mellow by nature. NTS resident Marshmello takes us on a magical journey inspired by Oranj's first ever curated case released in collaboration with Holly Willcocks, sommelier of Noble Rot. Marsha's musical journey draws upon on her deep repository of soul, jazz, breakbeat, house, electro mixed and blended with a catalogue of deep discoveries. Best listened to whilst sipping something delicious from Holly's case.