Holly Willcocks — August 2020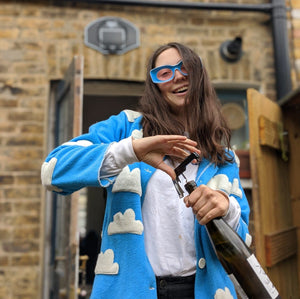 Meet our August guest curator — Holly Willcocks from Noble Rot
Holly's involvement with wine began at 18 when she worked in a wine shop opposite her parents' house in London. Years of working in restaurants and bars followed, but Holly credits her first WEST with really igniting her passion for wine. Eleven years and with two WSET courses later, she is a sommelier at Noble Rot, London's award winning restaurant and wine bar.
There was nothing accidental about Holly's move to Noble Rot, famed not only for its wine but its food, magazine, and work culture. Working there is "amazing" because unlike most hospitality jobs they encourage in-house training. "We get to open so many of the wines and try them," enthuses Holly. "We are always meeting producers and tasting new things."
For Holly, it's all about "taste, taste and taste" and about showcasing beautiful wines with moving stories. So it was no surprise that she chose gender as her theme as our first guest curator. Of the five female winemakers she selected, she said, "There are amazing people out there making some really lovely and beautiful wine, but because they are women people might not know them as well", she says. Although, she adds, it was challenging to pick out the bottles because there aren't many female winemakers around as "it's been a very male-dominated industry for a very long time. So, it's nice to see some traction."

Holly feels that the stories of the people behind the bottles is part of the beauty of wine. When she's selling a bottle of wine, she likes to tell the customer about the story behind it, who made it and how. You can see that by reading the description she provides for each of the wines and the winemakers in the subscription box. She presents these womens' stories with eloquence and sensitivity. For Holly, the personal stories and philosophies of the winemakers tell you lots about the wine itself.
Reflecting on gender and the wine industry, Holly talks about her position in the wine world as a 29-year-old woman. "I have found the industry to be inclusive, and everyone has been welcoming. Especially at Noble Rot, there are a lot of women in management and especially on the floor, which is amazing". She feels that she has never experienced any overt form of discrimination. However, she does detect the belief among a few customers "that a young male sommelier will know more about the Bordeaux section than I will, which is not necessarily the case".
On the subject of natural wine, Holly believes that the term is somewhat meaningless because people have been making natural wine for hundreds of years. What has changed are people's perceptions of wine, with the industry becoming more reflexive, image-conscious and driven. What the term implies now is "that people are making wine with little intervention and not throwing pesticides willy nilly." For her, the natural wine movement has become more inclusive. People who are making and talking about wine no longer need "a whole background knowledge of something like a Burgundy vintage." Instead, there's greater versatility of wine styles and grapes, which wouldn't be found in more traditional settings.