September Subscription Wines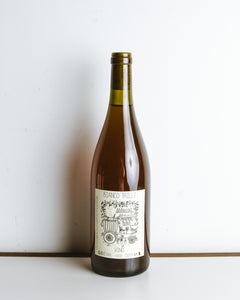 Gazzetta • Bianco Trilli • Bolsena, Lazio, Italy • 2021 • Trebbiano, Malvasia Toscana, Ansonica • Orange
'Bianco Trilli 2021' is by Patagonian born, Australia raised, and now possibly one of the most adored natural winemakers of Lazio, Trish Nelson. Whole bunches of indigenous grape varieties see a 5 day maceration before being transferred to stainless steel vats to age until bottling in Spring. A punchy yet delicate expression - deep orange hue in the glass, with vibrant herbaceous aromas, a slight white pepper spiciness and ripe citrus, all coming together with a hint of savoury earthiness. 
Food Pairing: Salty Pecorinos, Salumi, Guanciale Carbonara, Vongole
Preparation: Serve lightly chilled
Domaine Geopp • L'Impatient Macerated Gewürztraminer • Heiligenstein, Alsace, France • 2022 • Gewürztraminer • Orange
The Geopp family have been making wine in Alsace for many generations. Brothers Clément and Sylvain of Domaine Geopp are now leading the production employing low intervention winemaking practices. They work gently and meticulously on 11 hectares of vines in Heiligenstein, guaranteeing high quality, considered winemaking. 
L'Impatient see's a week of skin maceration in whole bunches, celebrating gewürztraminer's signature aromatic character, mixed with defined fruit flavours and topped with structure, saltiness and freshness.
Food Pairing: Thai, Seafood Curries, Alpine Cheeses 
Preparation: Serve chilled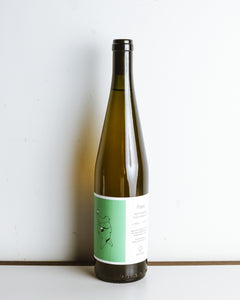 Cantina Giardino • Paski • Campania, Italy • 2021 • Coda di Volpe • Orange
In the high hills of Campania sit 70 year old Coda di Volpe vines tended by Antonio and Daniela De Gruttola, champions in preserving native varietals, old vines and creating wines that truly celebrate terroir.
Grapes are hand harvested before 5 days of maceration on skins. In traditional Italian winemaking style, local chestnut casks come into play housing the wine for a year, adding unique complexity.
Zippy minerality with bright and refreshing herbaceous notes meet ripe fruits and a little smokiness. Its got some body, fine tannins make for a good companion now, or if you can wait, a great wine for a couple of years' time.
Food Pairing: Aged Cheeses, Grilled Fish, Risotto
Preparation: Serve lightly chilled
Vincent Stoeffler • Rutscherle Nature • Alsace, France • 2021 • Riesling • White
Based over some of the best plots in Alsace, Domaine Vincent Stoeffler have been making wines for many years and their vineyards have been certified as organic since 2000.
Old vine riesling brings high quality citrus and candied orange aromas, with fine mineral finesse. Grapefruit and pear on the palate is all rounded off by a unique honeyed finish. A dry yet aromatic riesling, pour into a carafe for optimum flavour. 
Food Pairing: Sushi, Baked Fish & Potatoes, Roast White Meats
Preparation: Serve chilled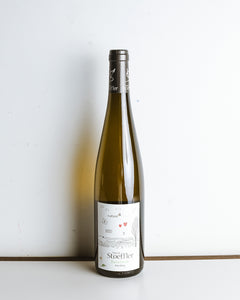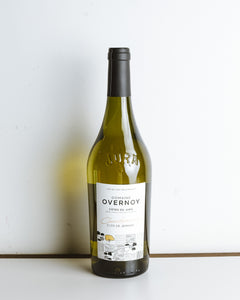 Domaine Overnoy • Clos de Jerminy • Côtes-du-Jura • Jura, France • 2020 • Chardonnay • White
Guillaume Overnoy runs 5.5 acres of land in Beaufort-Orbagna, farmed organically since 2014. Passionate about sulphur-free winemaking, he takes the utmost time and care making wines with a long élevage on fine lees - 2 years minimum for whites & 1 year for reds. 
This is an elegant Jura wine made from Chardonnay grapes, grown on high quality blue marl soils in Clos de Jerminy. It's got the perfect balance between fruit & minerality. An elegant white wine that is built for hearty suppers and cheese.
Food pairing: Coq au Vin, Butternut Squash Risotto, Comte
Preparation: Serve chilled
Laurent Saillard • Grenache du Gard • Gard, Languedoc, France • 2021 • Grenache • Red
After a tricky vintage, Laurent was forced to travel South from the Loire to find sunny Grenache grapes from his friends' vineyards in the Gard. Transporting them back to his winery, he fermented the harvest in whole bunches for 6 days, before pressing off into tanks for a 5 month elevage. 
The result is a testament to Laurent's careful approach despite never working with the particular varieties. This wine is bright with balanced ripe red fruits and a good tannic structure. This is a wine with not only a great story but also great finesse.
Food pairing: Grilled Meats and Vegetables, BBQ, Stews
Preparation: Serve at room temperature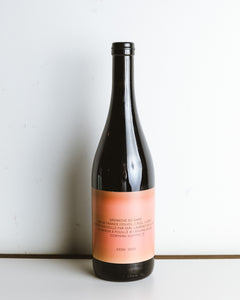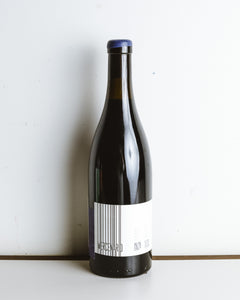 Agualevada • Mercenario Tinto • San Clodio, Spain • 2020 • Caiño Longo, Caiño da Terra, Brancellao, Espadeiro, Sousón • Red
In the heart of Ribeiro, Lago Garrido works his land organically & biodynamically, celebrating results from the area's granitic soils. Such soil structures create fresh, crisp and easy drinking wines. Grapes were picked from 15-30 year old vines, the region is home to many native grape varieties. 
These grapes were foot trodden and then gently massaged by hand to ensure perfect extraction, followed by 10 months of ageing.
A real end of summer treat - aromas of wild berries, juicy melon, herbaceous, savoury with a hint of spice. Perfect chilled down a little.
Food pairing: Iberico ham, Red Meats, Lobster, Octopus, Hard Cheese
Preparation: Serve at room temperature, or after 30 minutes in the fridge, depending on your preference!
Domaine des Buis • Chauffe Marcel • Aveyron, France • 2021 • Cabernet Franc, Fer Servadou • Rosé
Located in the foothills north of Aveyron, Pauline Broqua creates beautifully delicate wines with raw talent - she has only just started making her own wines and they are particularly special! Cabernet Franc and Fer Servadou has had a direct press before ageing in stainless steel vats for 6 months. Big punchy summer fruits, think wild strawberries and raspberries. 
Food Pairing: Crudités & Dips Before Dinner, Grilled Fish & Salads, Marinated Sardines, White Fish
Preparation: Serve chilled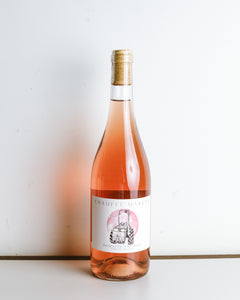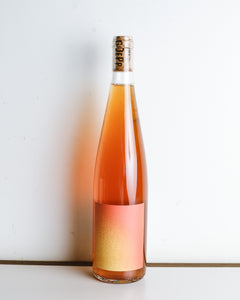 Domaine Geopp •  Uni'K • Macerated Savagnin Rosé • 2022 •  Alsace, France • Rosé
A unique expression from Domaine Geopp, this time from a very rare varietal Savagnin Rosé - it's believed to be a distant cousin of Gewurztraminer combined with a mutation of Savagnin. It doesn't share the same highly floral qualities of Gewurz, but still carries transformative citrus & floral aromas and with its pink hued skins, creates a beautiful spicy, saline and mineral wine. 
7 day maceration is followed by 7 months ageing on lees, bringing body and structure to the fruity, spicy flavours. Something a bit different, very moreish. 
Food pairing: Comte, Stews, Yaki Soba Noodles
Preparation: Serve chilled
Bruno Rochard •  Des Bulles et des Boires Rosé • 2022 • Loire, France • Grolleau, Cabernet • Sparkling
Bruno Rochard farms 6 hectares organically, taking a very gentle approach to farming and adopting biodynamic principles. His plots in Rablay-sur-Layon in the Loire span over multiple soil types, all farmed in accordance to the lunar calendar. 
This year's pet nat rosé sees 90% Grolleau with 10% Cabernet Franc from young parcels. A quick maceration creates a peachy pink hue, and fermentation in the bottle captures the pure essence of the vintage.
Definitely a go-to to open on a Saturday afternoon when guests arrive, or bringing to a dinner party.
Food Pairing: Oysters, Aperitif Hour, Olives, Anchovies
Preparation: Serve chilled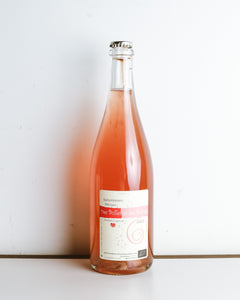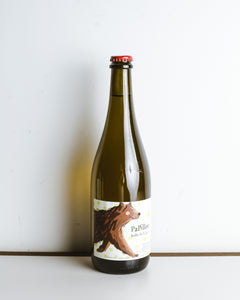 Jacopo Stigliano • Papillon • 2020 • Emilia-Romagna, Italy • Sparkling
Jacopo's approach in the vineyard is all about preserving the diversity that nature provides. He farms a few hectares of ancient vineyards in Valsamoggia, a picturesque region between Bologna and Modena. Old vines surrounded by trees host over 20 grape varieties. The vine's soils of clay and limestone give his wines a great mineral quality. 
He likes to make 'field blends', making use of the grapes from lots of different types of vines on his land. This selection of grapes are fermented all together, creating complex and unique wines that express the diversity of his vineyards.
Papillon is a blend of 3 local white varieties and is left to ferment for the 2nd time in bottle, capturing the true essence of the wine. These are bubbles that can be shared with food or without. Pithy and refreshing and a sparkling that Jacopo rarely makes, so very special too. 
Food: Aromatic and Spicy, Seafood, South East Asian, Curries
Preparation: Serve on ice
La Ferme Du Cade • Paintball • 2022 • Rhone Valley, France • Grenache • Red
From winemaker David Theyssier, based in the Gard district of Côte-du-Rhone. Grenache vines are planted in Cèze valley, where nature is all around. Sheep and Chickens help preserve the health of the vineyard, who pasture within the vines all winter and winemaking is completely low intervention. 
Candied red fruits, petals and blueberries meet a sweet fruit and spiced palate finished with a slight fizz.
Beautifully light & juicy with freshness and balance, this is a perfect transformative red to accompany the warmer dishes we are all starting to make in the kitchen. 
Food Pairing: Tuna pasta, Aubergine Parmigiana 
Preparation: Serve lightly chilled