October Subscription Wines
Viticoltori de Concilis • Greco Bianco Cuoredoro • 2013 • Campania, Italy • Greco • Orange
Located on the Campania coast, Viticoltori de Concilis' Vineyards are situated on high altitude cliffs looking out to the Mediterranean vista. Paola and Luigi are advocates of not only respecting nature using biodynamic and organic practices, but also the people. De Concilis is located in one of the poorest areas of Campania - here they employ workers paying them a real wage, and guarantee them year round work, in their effort to help the community.
Amber coloured in the glass with notes of plums and toasted almonds. Not too funky, more elegant and mature, from Greco grown on clay limestone soils with the coastal influence and a couple of days of skin contact. Powerful, fresh and alive.
Food: Pasta Puttanesca, Fish Supper, Caprese Salad
Preparation: Serve lightly chilled
Anita und Hans Nittnaus • Manilla • 2021 • Burgenland, Austria • Grüner Veltliner • Orange 
Super light, delicate and refreshing skin-contact Grüner Veltliner by the über talented Nittnnaus family (they trained other Burgenland locals Jutta Ambrositsch and Claus Preisinger). At a stunningly low 10.5% alcohol this wine has the perfect combination of fresh acidity, texture and tannins.
Food: Pad Thai, Soy-Glazed Ginger Chicken
Preparation: Serve chilled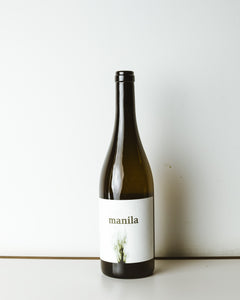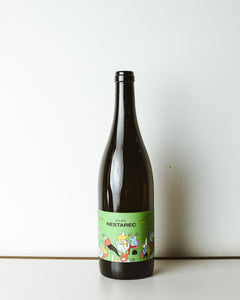 Milan Nestarec • Forks & Knives • 2020 • Moravia, Czech Republic • Grüner Veltliner, Welschriesling, Neuburger • Orange
For the 4th vintage of Forks & Knives, Milan Nestarec credits it as becoming a 'bigger mission than before: to embody my vision traditional, balanced and rich wine from my village'. He decided  to harvest Grüner Veltliner, Welschriesling, Neuburger. Grapes were gently destemmed and macerated on skins overnight. All the varieties were cofermented together in oak vats.  It's tropical, zippy, it feels refined and sophisticated and is his best vintage yet. Nesterac says 'I do not have to ask anyone for approval of. I love that freedom, and I want my wines to feel that way — to be unbound'.
Food: Spice, Thai, Seafood, Pasta, White Meats
Wine Preparation: Serve chilled
Claire & Florent Bejon • Pain Perdu • 2021 • Chinon, Loire, France • Cabernet Franc • Red
Claire and Florent Bejon are currently making some of the most interesting wines within the Loire region and specifically Chinon. 'Pain Perdu' is made from 50 year old Cabernet Franc from sandy, limestone rich soils. They were fermented whole bunch for 3 weeks before being pressed to vats, old barrels and amphorae. Beautifully concentrated red fruits, it's got that 'Cab Franc' white pepper thing, herbaceous, spicy notes, whilst remaining totally delicate on the palate.
Food: Salami, Cheese, Chicken Cassoulet 
Preparation: Serve 16 - 18 degrees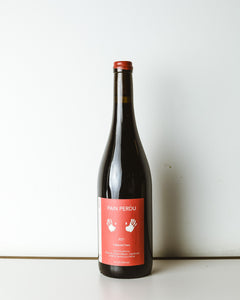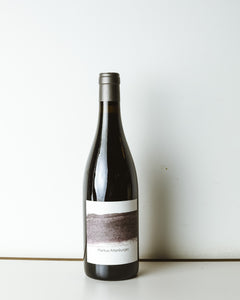 Markus Altenburger • Cric • 2020 • Burgenland, Austria • Blaufrankisch • Red
Markus Altenburger took over the family winery in 2006 to focus solely on the varieties that best express their terroir in Jois, next to lake Burgenland. Grapes are hand harvested and macerated as whole bunches for 2 weeks. Spontaneously fermented in wooden fermenter. Aged for 12 months in a used 2000l oak barrel. Bottled unfined and unfiltered Markus' works manages to add a depth and complexity to Blaufrankisch we have nor really seen elsewhere. 'Cric' has summer fruits, delicately floral, with an uplifting zippy edge. He describes it as "Our freshest and most elegant limestone-born Blaufränkisch". 
Food: Smoked Sausages, Steak, Mushroom Hot Pot
Preparation: Serve 16 - 18 degrees
Famille Dutraive • Fleurie La Madone • 2018 • Beaujolais, France • Gamay • Red
A stunning example of how a 'Beaujolais Gamay' can be both sophisticated, and food forward. This is all wild forest strawberries and ripe cherries. Jean-Lois Dutraive is one of the area's natural winemaking pioneers. Grapes hail from a single plot situated on the iconic steep slopes east of Fleurie. The Gamay is then vinified in concrete vats, and aged in wood barrels for 6 months. With already 5 years aging in bottles it is ready to drink now, or keep for a couple of years, its age worthiness is testament to the quality of Jean-Lois' wines. 
Food: Paté, White Meats, Mushrooms
Preparation: Serve 16 - 18 degrees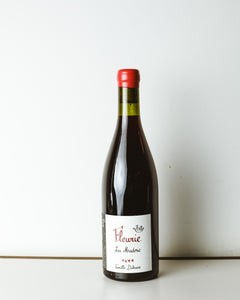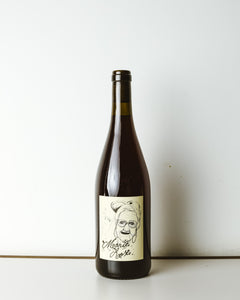 Le Batossay • Marie Rosé • 2022 • Anjou, France • Grolleau Noir • Rosé
This deep, textural rosé reminds us of bubble gum. A wine perfectly suited to the colder upcoming months. Baptise Cousin Grolleau Gris taken from 30 year old vines, macerated whole bunches for fortnight, before pressing off to rest until bottling takes place the following Spring. All farming is executed by hand, with Baptiste's wife Gael ploughing the land with their horses. Named after Baptiste's Grandmother, Marie Rose is a true testament to their love and care of the land and of family.
Hues reminiscent of a 6pm autumnal sunset, ripe, floral in the glass - think blood orange, cooked pear, blossom, warm spices balanced by the freshness of raspberries and herbs.
Food: Roasted Vegetables with Lemon, Aperitif, Charcuterie, Pasta
Preparation: Serve chilled
Valentin Valles • Lundi  • 2020 • Rhône, France • Grenache Noir • Rosé
Unlike a lot of Rose's made of Grenache, this wine is very light in comparison - fresh and bright with a roundness from lees ageing, notes of strawberries and white plums. Valentin has been making wines in Tavel since 2011 after working with the likes of Eric Pfifferling for several years. His 'Laissez Faire' approach to winemaking and love for birds make him a unique character. Named after the famous Atlantic Puffin, Valentin makes this rose from Grenache Noir grapes by gently pressing in his old wooden vertical press.
The Grenache Noir is then blended with a hint of Cinsault and Syrah during the ageing process. Unlike a lot of Rose's made of Grenache, this wine is very light in comparison - fresh and bright with a roundness from lees ageing.
Food: Baba Ganoush, Tagine, Lamb
Preparation: Serve chilled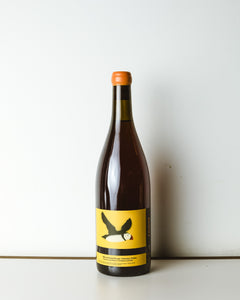 Thierry Hesnault • Pétillant Naturel  • 2021 • Loire, France • Plantet, Chenin Blanc • Sparkling Rosé
Bursting with summer fruit energy. Legendary winemaker Thierry Hensault has direct pressed old vine Plantet -  a variety grown primarily in the Loire Valley around Anjou. He then added a touch of Chenin Blanc before ageing for 8 months on lees. This sparkling is so elegant it could be mistaken for being made using the traditional method in Champagne. Sophisticated, extremely well balanced with lovely integrated acidity and rich finish. 
Food: Prawn Toast, Duck Salad, Smoked Salmon, Oysters, Charcuterie 
Preparation: Serve chilled
Naboso • Opera • 2022 • Bratislava, Slovakia • Müller-Thurgau, Grüner Veltliner, Moravian Muskat • Sparkling White
Andrej and Nadja have combined their expertise to make wine in Sväty Jur, 10 minutes from Bratislava. Nadja started her career in wine working in a restaurant in Copenhagen where she met Andrej who had been making wine for 10 years. Their philosophy is simple - they make wine because they love it.
All of their vines are grown on different soils, depending on the variety, lying on a South facing bedrock of granite with sand rich soils. Care is taken to create clear expressions of grapes.
Opera is a classy traditional method sparkling, balanced and aromatic with juniper, quince, green fruits with lively bubbles.
Food: Aperitif, Grilled Fish
Preparation: Serve chilled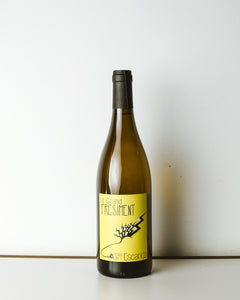 Mas De L'escarida • Lo Grand Freisment • 2022 • Ardèche, France • Sauvignon Blanc • White
Laurent farms vines up in the Cevennes mountains 500m above sea level. Delicately flinty, smokey, green fruits and a subtle grassiness. His wines are always fresh, fruity and in his words, 'easy to understand'. In this case, we have a very well made, approachable white, which drinks perfectly, and keeps particularly well over a couple of days in the fridge, if you only fancy one glass. 
Food: Baked Fish, Calamari, Soft Goat's Cheeses
Preparation: Serve chilled
Anne-Laure Laengel • Dans Le Pif  • 2021 • Alsace, France • Sylvaner, Auxerrois • White
Although married to vigneron Christoph Lindenlaub, this is very much Anne-Laure's project. Vines grown on clay-limestone soils. She uses some of her Auxxerois macerating it for 3 days before before blending with directly pressed Sylvaner and Auxerrois. Super mineral, with white fruits and bright, saline freshness followed by lip-pucking green apple. 
Food: Grilled Fish & White Meats with Herb Dressing, Salads
Wine Preparation: Serve Chilled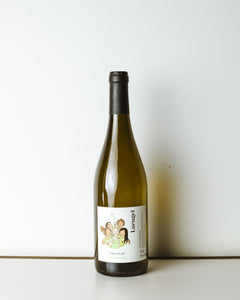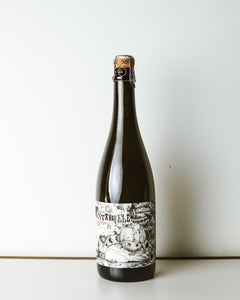 Valérie Courrèges • Antibulle Pet Nat • 2021 • Provence, France • Vermentino • Sparkling
We were introduced to this wine by a sommelier, Nomi Guillebot, who helped run a Marseille inspired residency at our restaurant. Valerie Courreges works biodynamically with 40 year old Vermentino vines on clay and limestone soils in Provence, creating wines with great expression of terroir. This was one of our favourite pours from our 'C'est Marseille Bébé' residency back in August - we have brought back the bubbles to share their joy further afield!
In her words, she states 'I make wines to enjoy - it's all about conviviality and simplicity. You don't have to be a wine connoisseur - the main thing is to take pleasure and enjoy'. Her sparkling vermentino shows persistent and delicate bubbles, lemon and ripe stone fruits on the palate and a crisp finish. The grapes are hand harvested and pressed directly, fermentation takes place in the bottle.
Food: Aperitif, Ceviche, Sushi
Preparation: Serve chilled