Gallery
Every month we commission an artist to make a piece of work which we turn into a poster that is sent to our wine box subscribers. Here is the back catalogue of posters made up until now. If you have any questions about becoming a subscriber please email us on: hello@oranj.co.uk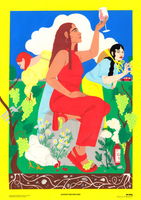 Laura Callaghan
Laura Callaghan is an Irish illustrator based in Belfast. She is best known for her colourful images packed with detail and characters. Her work is mostly hand painted using watercolour, gouache and pen.
Rachel Bungey
Rachel's work explores questions around new technologies, abstraction, perception and environmentalism. With a focus on abstract form Rachel uses sculpting as a form of medititation. Exploring these ideas through the physical and digital realm, using new technologies such as 3D printing, VR, 3D sculpting.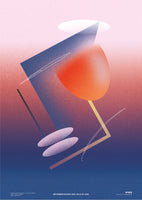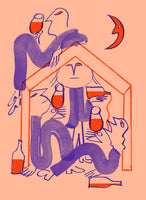 Alec Doherty
We invited London based artist Alec Doherty to make our October poster artwork. He chose to pay homage to the Tennessee Williams poem The Wine Drinkers.
Jess Ebsworth
East London based illustrator Jess Ebsworth, interpreted theme 'Vines By The Sea'. Jess has created a trippy surrealist piece inspired by 60's Psychedelia.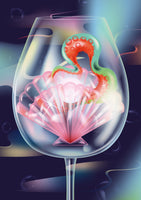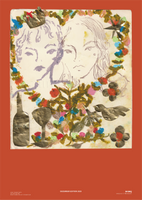 Fay Wei Wei
Faye Wei Wei hand painted us a piece called 'PLONK'. The work is a love letter to holiday get-togethers, dinner parties, and reunions with friends and family alike. The work reminds us to take pleasure in tradition and ritual, even if this year those traditions are mostly memory.
Coco Bayley
London based artist Coco Bayley makes us a poster for 'WET JANUARY'.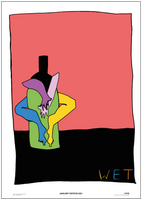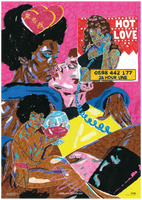 Adelina Sasnauskaitė
Lithuanian born, Sasnauskaitė is a London based visual artist who explores themes of femininity and sexuality. Juxtaposing text, popular symbols and found imagery she uses rather naive mediums like felt tip pens and crayons to cover thoughts on adulthood life.
Tomas Walmsley
Manchester based artist and musician Tomas has provided the visuals for this month's case.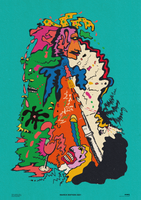 Will Creswick
Will Creswickfirst developed his photographic style documenting the lives of people skateboarding in Newcastle and slowly began to capture moments of zemblanity and irony in juxtapositions hidden amongst the ordinary. Shooting primarily on film, his recent work engages with human consumption and captures the feeling of dissatisfaction left in contrast to the beauty of the natural world. Using politics and societal injustice as inspiration, Will's work highlights the insignificance of human design and the ephemeral nature of life on earth.
Maisie Couins
London born, Hastings based Artist, Maisie Cousins has collaged a surreal and playful piece that celebrates this month's collaboration. Maisie uses macro lenses, highlighting colours and textures to create entirely new worlds of observation. In her words "nature is always beautiful and also disgusting".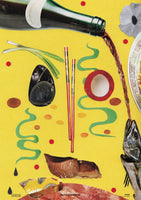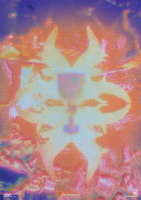 Gwenba
GWENBA is a multidisciplinary [new:media] artist currently based in South Wales. GWENBA explores the relationship between organic and virtual spaces, forming digital growths from the earth's core with performance, sound, video and text experiments. 3D sculpture and data manipulation form a central part of her myth-making, where a palimpsest of newly-original and ancient narratives become entangled.
Molly Cranston
Molly Cranston is a multidisciplinary designer and writer based in London. Her practice lies in research-based illustration, graphic design and book making. Currently she's in the process of setting up a studio with her best friends.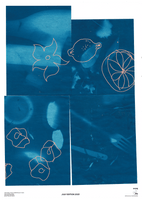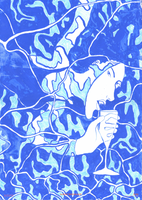 Eliza Hopewell
In Eliza's own words: 'I'm currently on the Villa Lena artist residency in Tuscany where I've been swimming a lot in the pool, the reflection of light on the water and the shape of bodies distorted by the different angles when under water have become very fascinating to me. I made the painting with some blue pigment I found in the art store here which is incredibly vibrant, the colour instantly made me think of swimming and being submerged.'
George Vicary
George is a mixed media artist whose primary focus is transforming still images into new and extended narratives through collage and physical manipulation. These are often explored with abstract, unconventional materials in order to achieve the stylistic result that he produces.
'With the Oranj poster, titled: 'a glass of red', I used photos that I had previously made and turned them into monotone acetate prints. This acetate was then subjected to a heat source in order to bring out more texture in the ink. The sheets were then overlaid to give a 3 dimensional feeling, which was then scanned. The final component of the piece was to reprint the scan and to dip it in a deep red solution to give it its vibrant colour.'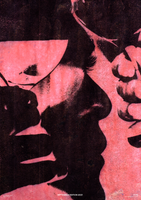 McGregor
McGregor lives and works in Los Angeles. With a cavalier approach to colour and mark making, he creates unconventional, wide-eyed renderings of traditional subject matter, with a focus on still life and landscape. McGregor's work highlights the beauty within mundane objects, spaces and moments that usually pass us by. He injects life into the everyday.
Two Shoes
Emilie Inger Camilla Branford is a half-English, half-Swedish multidisciplinary artist from Kent. She is currently interested in exploring her identity, by creating playful and mischievous characters through referencing pop-culture iconography from both countries.

Emilie's art is heavily influenced by characters and themes from her childhood, for instance Donald Duck, otherwise known as "Kalle Anka". She also likes to incorporate her own outfits and personality into the characters she creates, making them a kind of abstract self portraiture.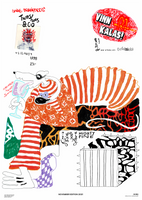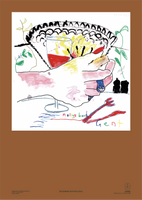 Jonny Gent
For this piece "Molly's Hand,"  Jonny zeroed in quite literally on Molly's hands: hands adorned with big silver rings on almost every finger, hands that are infamous on the restaurant floor of Sessions Arts Club, for their percussive clink of metal on glass. It's a sound that reverberates through the 18th century grade II listed courthouse during service. A sound that keeps the orchestra in harmonious rhythm, as it beats out the sweet, sweet melody that is Sessions Art Club.
Rhianna Ellington
Rhianna Ellington is an English textiles designer and artist who specialises in fabric development, printed textiles, knitwear and digital design. In 2018 she graduated with a Masters from the Royal College of Art where she studied Printed Textiles Design. She is currently based in London, UK. Rhianna has worked with brands including Acne Studios, Erdem, JORDANLUCA, Lane Crawford, as well as being featured in the Guardian and WGSN. You can view Rhianna's portfolio here.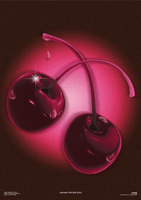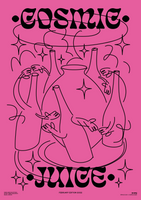 Emma Dragovic
Emma is a London based Graphic Designer, with a specialism in designing for the food, drink and hospitality sector.
In Emma's words 'The poster pays homage to the moon and soil worshiping practices of biodynamic viticulture. I wanted to capture the charisma and personality of the wines made using these methods - they're bright, full of energy and sometimes a bit rough around the edges.'
Josephine Zentner
Josephine's paintings feature situations that aren't as far fetched as melting clocks but still feel surreal and magical. Josephine has a love for iconic furniture. Her paintings are her way of showing her appreciation for beautiful design, by taking items of furniture out of their usual manicured setting and letting them work harmoniously with the imperfectly perfect design of nature.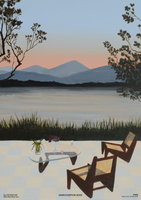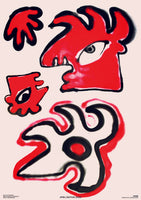 Tia O'Donnell
Tia O'Donnell is a multidisciplinary artist born and raised in London. She's exhibited her work at various galleries including The Saatchi, Groucho Club, 10 Greek Street, The Letherby Gallery, The Limbo Gallery, The Columbia and Joseph Froissart Gallery Paris. For this piece Tia 'got the inspiration from red wine and hot sauce. The thinking behind it was inspired by my favourite scene in the movie Ratatouille where Remy is tasting food combinations with his eyes closed and letting the tastebuds do the talking.'