In conversation w/ Patrick Campbell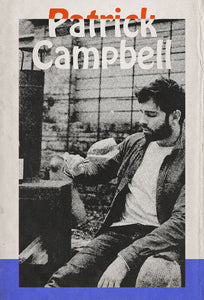 Patrick Campbell, hailing originally from London Town is now riding out lockdown in Manchester. His journey into food and wine started off at restaurants around Manchester supplementing his life around University. After degrees in European studies and then Business with a social enterprise focus, he moved back to London in 2013 and has worked in a string of family-owned independent restaurants with a focus not just on the food and wine, but on the welfare of both suppliers and staff being integral. 
He remarks that while working at Moro in Clerkenwell was where he first realised wine was a passion. This didn't happen while he was running the floor at the restaurant but rather at the staff house parties where Sherry, a fortified wine from the town of Jerez in Andalusia, became the unconventional favourite. Since discovering Sherry at Moro back in 2013, Patrick has worked at the likes of Portland & Trullo which both have really progressive wine lists as well as personable, intimate service styles. 
He is now the General Manager of Brawn. What drew him to it he says, 'For a long while now, it's been my favourite restaurant in London. Working at a much-loved industry haunt like Brawn comes laden with great responsibility though - as you desperately want to maintain certain qualities whilst continue to try and elevate it where you can. I felt a touch apprehensive because of this but it was a great privilege to take up the position in January last year."
"Tasting and selecting wine at Brawn is always pretty collaborative as well, which works to train the team on a practical level but also means we have a range of different palettes to discuss and presents wines on any given service. I resent the idea of one Head Sommelier having autonomy as it often means many on the team aren't buying into that person's vision. In this respect, I owe a lot to the wonderful drinkers that are Joanne James, Katie Seward, Wesley Triggs and Will Gee who have taught me plenty since joining Brawn.. not to mention the impeccable taster and the Prince of Pineau D'aunis that is Ed Wilson.
What makes Brawn so special for Patrick, is not just the food but also the atmosphere.. 'it somehow pulls the trick of feeling both classic yet current, when you go in there you feel instantly relaxed and you know that everything will be dealt with in the most professional way'. And of course, the menu and wine list are legendary.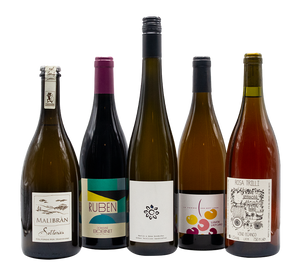 On the box, Patrick chose wines that he loves, fit with the season and that match well with acidic, fattier cuts and boldly-flavoured food. Perfect for an Easter meal in the park/ garden. He wanted to choose wines that were of slightly lesser-known varietals.. including Procanico, Rousanne & Glera. "I've tried to pick wines that I love, (for example the Sottoriva being the first Yolanda and I opened together and will drink at our wedding later this year) but also a couple that suit a whole host of dinner tables regardless of menu choice or weather. Evergreen bottles are a must in a wavering climate such as our own..
Whilst Brawn is temporarily shut, Patrick has been leaning into fatherhood some more and fondly looking after his eight-month-old son Finn with his partner Yolanda. When he has any time to himself he goes out running in the countryside for as long as 2 or 3 hours a time. The slowness of life recently has been soothing..but like us all, he is itching to get back some of the later nights and to being in restaurants again.